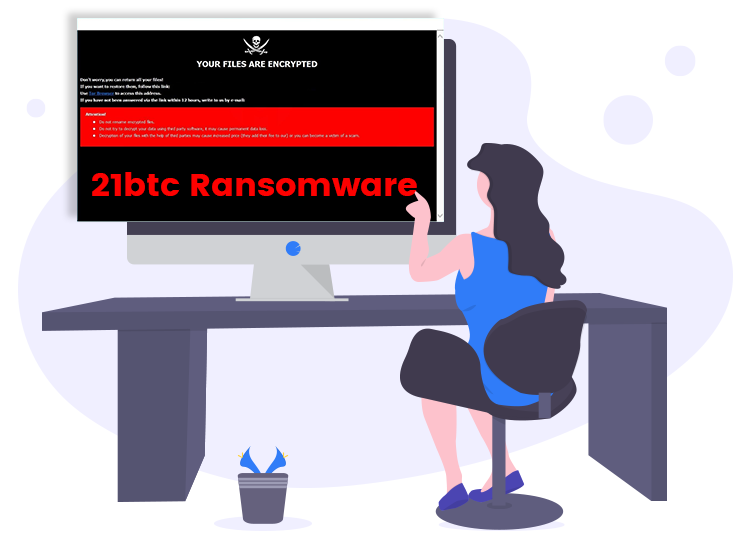 Stay up to date with details regarding the pesky 21btc ransomware: here are a few cyber-security tips.
According to the recent cybersecurity reports, 21btc is one of the most prevalent file-locking viruses, belonging to a well-known Dharma ransomware family. It is designed to encrypt the data without the user's knowledge and then demand a ransom payment from the victim for the alleged restoration of data. Since you are here reading this article, we assume that the 21btc ransomware infection has already breached your defenses and is wreaking havoc on your computer network.
If you're one of the unfortunate users whose device has just become a victim of such an attack, then there's no need to panic. Through this article, we offer a short primer on 21btc ransomware, along with tips on how to protect yourself against it. Read on to know more.
What is 21btc Ransomware?
21btc is a piece of file-encrypting malware that encrypts stored files and then compels victims to make ransom payments in exchange for access to data. After successfully infiltrating the targeted system, 21btc locks all personal files/documents (e.g., images, videos, archives, etc.) with the following pattern: original filename, assigned unique victim ID, email address of 21btc ransomware developers in square brackets [21btc@cock.li], and ".21btc" extension.
Right after this, victims are shown a ransom-demanding note ("FILES ENCRYPTED.txt" text file) with detailed instructions on how to pay a fee to purchase the decryption tool or key.
In such cases, users are strongly advised to avoid contacting / paying the cyber crooks as there have been many instances where victims did not get the promised decryption keys even after the demanded ransom payment is submitted.
21btc Ransomware – Distribution Techniques
21btc ransomware virus sneaks onto your system in the same ways as any other form of malware infection. Here are a few of ransomware's main distribution techniques that cybercriminals opt to infect your computer or mobile devices.
Malspam campaigns (malicious email spam)
Peer-to-Peer (P2P) sharing networks
Adult content hosting websites
Untrustworthy download sources
Fake software updaters or dubious third-party downloaders
Intrusive pop up ads, banners, etc.
Important Cyber-security Tips to Prevent 21btc Ransomware
Below are some of the most common defensive steps you can take to prevent ransomware infection.
Get a dedicated anti-malware/antivirus software from a reputable developer.
Keep your operating system and other software/programs up-to-date at all times.
Back up important data files to an external storage device (e.g., USB flash drive).
Avoid opening skeptical and/or irrelevant emails or clicking links/attachments embedded in them.
Avoid downloading third-party tools from suspicious download channels.