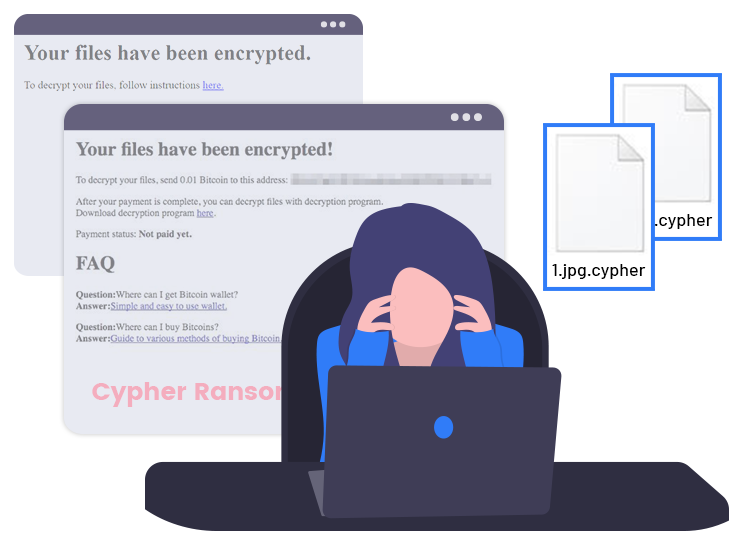 Ransomware is without a doubt, one of the most active threats on the internet and one of the most potent forms of cybercrime that individuals and organizations face today. It is always evolving, with new dangerous variants continually appearing in the wild and posing an increasing threat to personal as well as business-critical data. In light of this, cybersecurity researchers have found a new variant dubbed Cypher. As per the latest reports, Cypher ransomware appears to be a modified version of Shifr ransomware, which was discovered in the second quarter of 2017.
If you want to know all there is to know about this high-risk Cypher ransomware virus, you've come to the right place. In this post, you will learn about the working of Cypher ransomware, along with tips on how to prevent it in the future.
What is Cypher Ransomware?
Cypher is a type of highly-dangerous ransomware virus that is designed to encrypt important files and documents without the knowledge of victims in order to demand a ransom in the form of Bitcoin cryptocurrency for decryption. This crypto-virus uses strong encryption algorithms and appends ".cypher" extension to the filenames (e.g., "1.mp3" is renamed to "1.mp3.cypher").
After the successful encryption process, it creates an HTML file ("!INFO.HTA") that contains the ransom note and instructions on how to pay a ransom fee to the authors of this ransomware, in exchange for access to the lost data.
However, under any circumstance, you should not contact ransomware authors that they will release the stolen or encrypted information if the ransom is paid.
Cypher Ransomware: Distribution Techniques
Below are some of the most common and popular ways that hackers use to spread ransomware-type infections.
Malspam or malicious spam campaigns
Fake software updating tools
Exploit Kits
Third-party or untrustworthy downloaders
Malicious websites
Pornographic and adult content providers
Peer-to-Peer (P2P) networks (e.g., BitTorrent, e-donkey)
Exploiting vulnerabilities in outdated software
How to Prevent Cypher Ransomware?
Follow all the below-mentioned tips to prevent ransomware or any other prevailing malware or virus attacks made against your device.
Keep your antivirus/ anti-malware software up-to-date.
Never subscribe to push notifications from dubious websites.
Think twice before opening irreverent emails from unknown sources.
Download apps only from official and authentic sources.
Back up all important files to physical devices (e.g., USB flash sticks)
Keep your operating system and other installed programs updated.