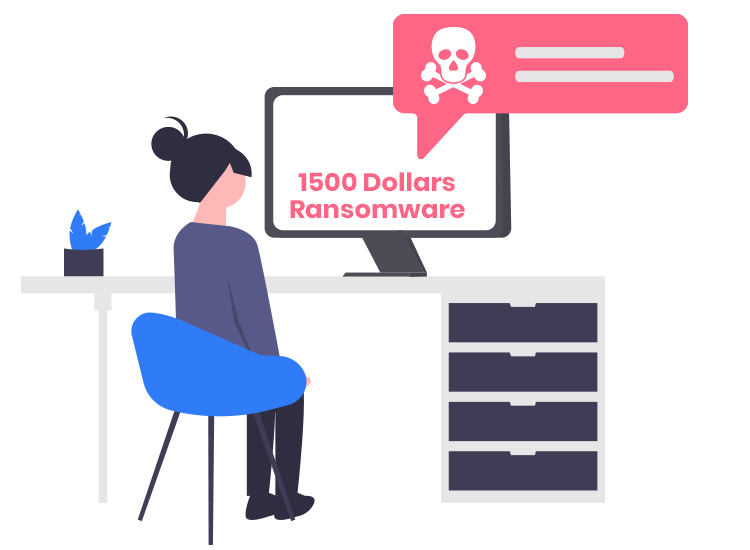 Do you want to know what is '1500dollars' ransomware virus and how can you get rid of it easily? If so, read the following guide to get all the information related to this nasty file-encrypting ransomware virus.
If you are not able to open your important documents, images, music videos, or other files stored on your laptop or computer and they have a "1500dollars" extension at the end of their file names, then it means you are under a ransomware attack.
What is the '1500dollars' Ransomware Virus?
'1500dollars' is the name of a vicious data-encrypting ransomware virus that belongs to the well-known Phobos ransomware family. The main purpose of this malicious program is to encrypt (lock) every single data found on the targeted computer's hard drive and then compel victims to pay a ransom amount for decryption tools. 
After appending the "1500dollars" extension to the encrypted files, it generates two types of ransom notes; one is a pop-up window and the other is a special text file named "info.txt". These notes are dropped into every folder that is compromised, providing users with detailed instructions on how to contact the developers of this ransomware and pay for decryption software.
Victims are also notified that their files are locked with strong AES/DES cryptography techniques and the only method to recover them is to purchase their decryption software. Creators of '1500dollars' ransomware infection also offer to decrypt 5 files for free.
However, it is strongly recommended to never contact or make a ransom payment to cybercriminals because once the money is transferred, there's no guarantee that they will send you a decryption tool.
How did '1500dollars' ransomware infect my PC?
Like most forms of malware, this ransomware is distributed via spam emails, fake software updating tools, unsafe or shady domains, P2P file sharing, torrent downloads, social clickjacking, pornographic websites, and other social engineering tactics.
How to remove '1500dollars' ransomware virus from your computer
Cybercriminals are continuously making their malware more resilient and damaging than ever before. It is nearly impossible to manually find and delete these latest malware threats. Hence, it is suggested to use robust and up-to-date anti-malware software in order to hunt down all threats like ransomware, adware, spyware, bots, and other potentially unwanted programs.
Along with this, make sure that you take a backup of all your important files on a regular basis to avoid permanent data loss.