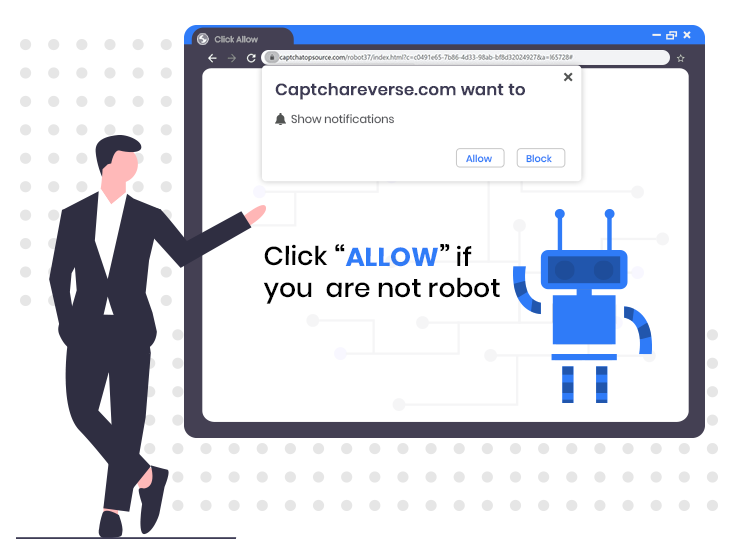 The Captchareverse.com pop-up ads are usually displayed in the bottom left corner of the desktop screen and encourages users to install suspicious apps or web browser extensions, visit adult web pages, play online web games, and so on.
Captchareverse.com is the address of a malicious web domain that uses the browser notifications feature to deliver intrusive pop-up advertisements and/or redirect visitors to other dubious and possibly malicious websites.
Like many unsuspecting visitors, if you have also accepted ads from this website, then read this article right to end as it contains step-by-step instructions on how to disable the browser notifications.
What is Captchareverse.com?
According to IT security experts, Captchareverse.com is a malicious website designed to lure people into subscribing to its browser notifications. It is worthwhile to mention that Captchareverse.com is not the only site of this kind on the Internet. More examples of rogue pages are Bellowforwardstep.me, Sakh.site, and Makethenvoiceforme.me.
The important thing to note here is that users rarely access sites of this kind on purpose. Most get redirected to them by other shady websites, intrusive advertisements, or PUAs (potentially unwanted applications) that most users download and install on their computers unknowingly.
Typically, most rogue websites use deceptive techniques (e.g., fake CAPTCHA verification, clickbait, etc.) to trick users into registering for their browser notifications.
How to Remove Captchareverse.com Pop-up Ads from PC
To remove annoying Captchareverse.com pop-up ads and spam notifications from your browser, follow the simple steps below.
First, open Chrome's main menu by clicking on the three vertical dots icon on the right upper corner of the browser window.
After that, navigate yourself to the Settings > Site settings > Notifications.
Next, click on the three dots icon placed alongside the Captchareverse.com site in the Allow section, and then select the Remove or Block option.
Important Internet Safety Tips for Secure Web Browsing
Here are some of the top tips and tricks to keep your computer free of viruses and malware and ensure online security.
Install and use anti-malware software.
Keep your Internet browser and operating system updated.
Be wary of unsolicited email attachments.
Secure your Internet traffic using a reliable virtual private network (VPN).
Use an ad blocker app to stop annoying ads from following you online.
Create strong and unpredictable passwords.