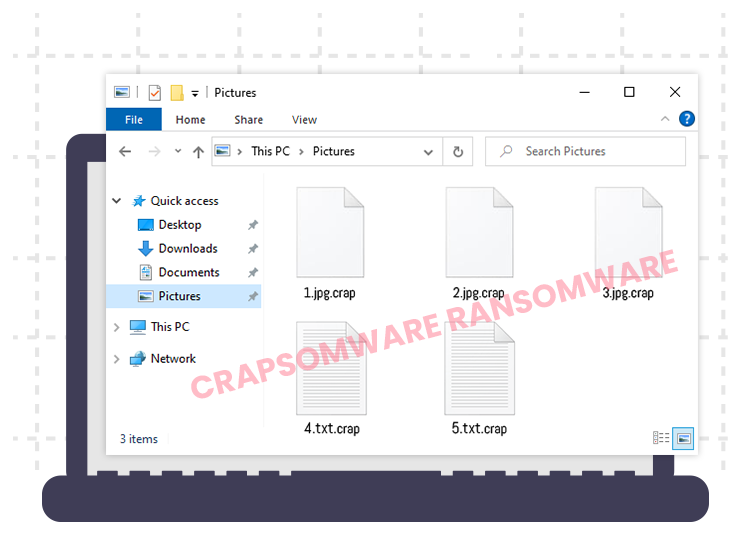 Crapsomware (ransomware) is the name of a malicious program that employs encryption to hold a victim's personal and sensitive information at ransom. It operates by encoding stored files on the compromised host computer with the strong AES and RSA cryptography algorithms and then demands ransom money in the form of Bitcoin cryptocurrency to decrypt them. 
Keep on reading as this guide is aimed to help you remove this ransomware from your computer.
What is Crapsomware Ransomware?
Crapsomware is a vicious file-encrypting ransomware that is recently discovered by a cybersecurity and malware analyst named Petrovic. After secretly penetrating the targeted device, Crapsomware encrypts or locks user files (e.g., images, audios, videos, work documents, spreadsheets, archives, etc.) and demands a huge sum of money for the decryption tools.
Immediately after penetration, it adds a nasty ".crap" extension to the name of each affected file. For example, it renames a file originally titled "1.mp3" to "1.mp3.crap", "2.mp3" to "2.mp3.crap", and so on.
After this process is complete, it drops a "Readme.txt" file (ransom note) into compromised folders on the infected PC to inform the victim about the encryption. The ransom-demanding message usually contains details, such as the price of a decryption software, cybercriminal's email address (Kto.Nado.1999@mail.ru), payment instructions, etc.
It is strongly recommended to avoid paying money to the ransomware authors because there's no guarantee that they will provide a decryption key even if all their demands are met.
Crapsomware Ransomware: Distribution Techniques
Following are the most common methods that cybercriminals employ to distribute ransomware and other harmful malware infections.
Malicious email spam or malware spam (MalSpam)
Malicious online advertising (Malvertising)
Drive-by download
Fake software updaters or cracking tools
Pornographic websites
Free file hosting sites
Exploitation of flaws/ bugs of outdated programs
How to Remove Crapsomware Ransomware?
The simplest and most flawless way to delete Crapsomware ransomware and other harmful malware infections is to run an automatic scan with a reputable and strong antivirus/ anti-malware program on the compromised computer.
Few Tips to Prevent Ransomware Attacks in Future
Follow the below-shared important cybersecurity tips to reduce your chances of falling victim to ransomware, virus, and malware attacks.
Keep your internet browsers, operating system, and installed programs updated at all times.
Don't open unexpected or dubious email attachments.
Take regular backup of your valuable data to external storage devices.
Create strong unique passwords that hackers won't be able to crack.
Avoid downloading software from untrusted sources.