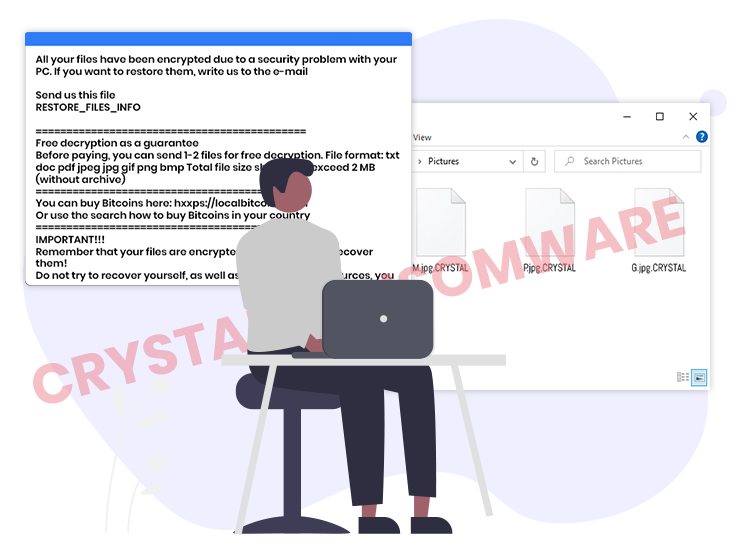 CRYSTAL is the name of a malicious program classified as ransomware. This form of malware is specifically designed to encrypt or lock all the files (such as photos, archives, videos, work documents, etc.) of an infected computer system and then extort ransom money in Bitcoin cryptocurrency for the decryption.
In case your computer is already infected with CRYSTAL ransomware, then read this entire article with the utmost attention. This guide will provide you a clear insight on how to remove CRYSTAL ransomware from your computer without paying money to the hackers.
What is CRYSTAL Ransomware?
This is a type of malicious software that encrypts a victim's files using a strong AES-256 algorithm. Like Amber, VIPxxx, Ncovid, and other computer infections of this type, it renames all the affected files with a nasty extension to render them unusable for further use.
During the encryption, it appends ".[black_privat@tuta.io].CRYSTAL" extension to each of the encrypted filenames. For instance, it renames a file named "1.jpg" to "1.jpg.[black_privat@tuta.io].CRYSTAL", "2.jpg" to "2.jpg.[black_privat@tuta.io].CRYSTAL", and so on.
After locking all the stored files, CRYSTAL ransomware shows the "RESTORE_FILES_INFO.txt" file that contains the ransom note and detailed instructions on how to contact and pay a ransom fee to the authors of this ransomware-type infection to get the decryption key.
Affected users are strongly advised against contacting or meeting the demands of ransomware attackers. Because there is no guarantee that cyber crooks will provide you a working decryption key even if all their demands are met.
Distribution Techniques
There are various distribution tactics that ransomware attackers can use to deploy malicious payloads. Below are a few of the most popular and common ones.
Emails with malicious attachments and URLs
Drive-by download
Software cracking tools
Adult portals/ pornographic sites
Malicious advertising
Freeware download web pages
Outdated software flaws
How to Remove CRYSTAL Ransomware from PC?
There are two methods through which you can delete this ransomware i.e., manual and automatic. Since the manual method requires strong technical expertise and implementation of a number of time-consuming steps, we recommend you proceed with the automatic method of malware removal.Downloading and running a thorough scan of your PC using a proven antivirus or anti-malware program from a reputable company can help you accomplish a hassle-free removal of CRYSTAL and several other malicious threats in just one go.