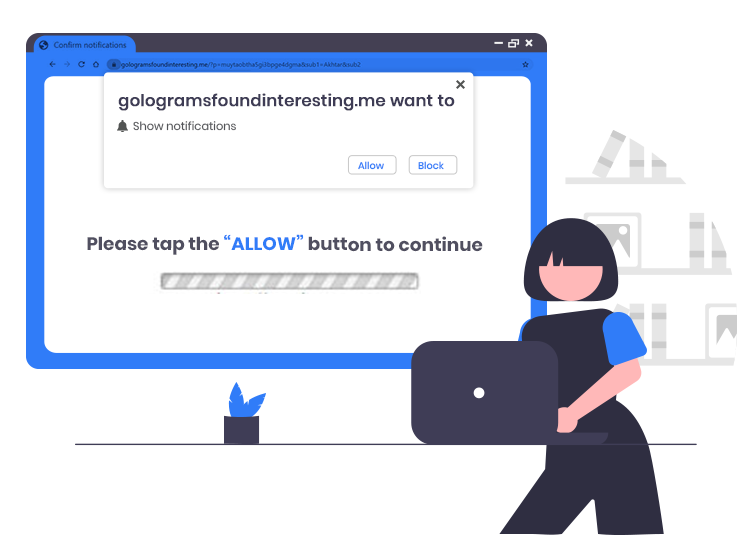 Virtually identical to Luckymedia.surf, Robotcheckily.online, Mo22.biz and thousands of others, Gologramsfoundinteresting.me is a rogue website that is used to promote intrusive advertisements, suspicious browser add-ons, giveaway scams, affiliated/ malicious web pages, and other potentially unwanted applications (PUAs).
It operates by luring unsuspecting visitors into subscribing to its push notifications. Although push notifications cannot directly harm your operating system or web browser, scammers abuse them to bypass antivirus and ad blocking protection so that they can deliver unwanted advertisements directly to your desktop.
Recently many users reported seeing a range of deceptive Gologramsfoundinteresting.me pop-up advertisements in the bottom-left corner of their device's screen. If you're also one of them, then keep reading this post to learn how to remove these pop-up ads from your computer.
What is Gologramsfoundinteresting.me?
This is a deceptive website which tricks users to accept push notifications via the internet browser by using some social engineering tactics (such as, fake CAPTCHA verification, clickbait, etc.)
An important thing to remember here is that users rarely access Gologramsfoundinteresting.me site or other pages of this kind intentionally; most get redirected to them via other shady websites, invasive ads, or potentially unwanted applications (PUAs).
When a site such as this one gets visited, it displays a "Confirm notifications" message and urges visitors to hit the 'Allow' button in order to access the content of the website, connect to the internet, update flash player, and so on.
Keep in mind that Gologramsfoundinteresting.me and other rogue pages of this kind should never be allowed to show notifications.
How to Remove Gologramsfoundinteresting.me Pop-up Ads
Below we have provided step-by-step instructions on how to get rid of these pop-up ads from the Google Chrome browser.
From the browser toolbar at the upper-right corner, select the Chrome menu icon (three vertical dots).
Then, navigate to the select Settings > Site settings > Notifications.
Look for the Gologramsfoundinteresting.me site in the Allow section. After locating, click the three dots button placed alongside it, and then click Remove or Block.
A Few Important Tips for Safe Internet Browsing
Below we have shared some of the most important cybersecurity tips that you should follow to fortify your computer security and enjoy a safe web browsing experience.
Use a powerful antivirus/ anti-malware program.
Keep your operating system up-to-date.
Avoid opening email attachments from suspicious senders.
Avoid downloading files from dubious third-party sources.
Create strong and difficult-to-crack passwords.