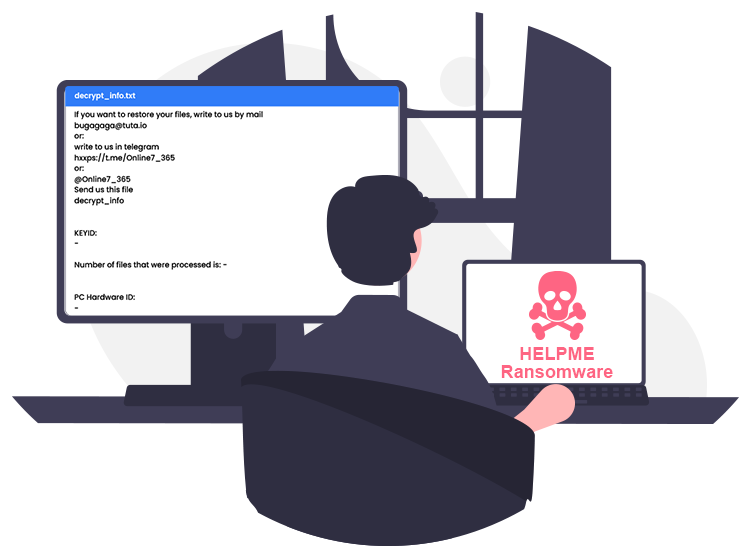 Read this guide and learn how to remove the HELPME ransomware virus. Afterwards, you can restore your files without any ransom payments to hackers.
HELPME is a rogue piece of malware categorized as a ransomware virus. This malicious software is designed to prevent its victims from accessing the files stored in their computers. In simple words, HELPME ransomware encrypts stored files (e.g., images, videos, documents, database, etc.) with a powerful cryptography algorithm and demands ransom money in order to decrypt them.
Cyber security experts do not recommend paying ransom money as there are no guarantees that ransomware authors will really send you a valid tool/key for the decryption of your files.
What is HELPME Ransomware?
HELPME ransomware is a malicious program. Hackers designed it to make its victims' files inaccessible by encrypting them and then demanding a ransom payment in the form of bitcoin cryptocurrency for the decryption. 
After the encryption, it renames all affected files with this pattern: victim's ID, bugagaga@tuta.io email address, and the ".HELPME" extension. For example, if a file named "mywork.docx" gets encrypted, it would appear as "mywork.docx.[ID-1PLOK15K].[bugagaga@tuta.io].HELPME".
Afterward, it drops a ransom note titled "decrypt_info.txt" onto the desktop. The text in the ransom note informs the users about their encrypted files. It also states that the decryption requires a private key/tool that they have to purchase from the crooks behind the infection.
It also states that the victims need to establish contact with the ransomware developers. For this, they provide an email address, to send "further instructions". This means, in fact, the price of decryption software, the payment procedure, and so on.
How Does HELPME Ransomware Infect Your Computer?
Cybercriminals employ various different methods to distribute HELPME ransomware and other malicious software to the targeted computer. Let's have a quick look at the most commonly used techniques for spreading malware infections:
Malicious links in emails
Malicious ads
Software cracking tools
Peer-to-Peer sharing networks
Drive-by downloads
How to Remove HELPME Ransomware from PC?
For a hassle-free removal of HELPME and other malicious programs, run a complete system scan. Remember to use a dependable anti-virus or anti-malware.
Once you eliminate the ransomware virus from your computer, use a data recovery tool to restore your lost files.