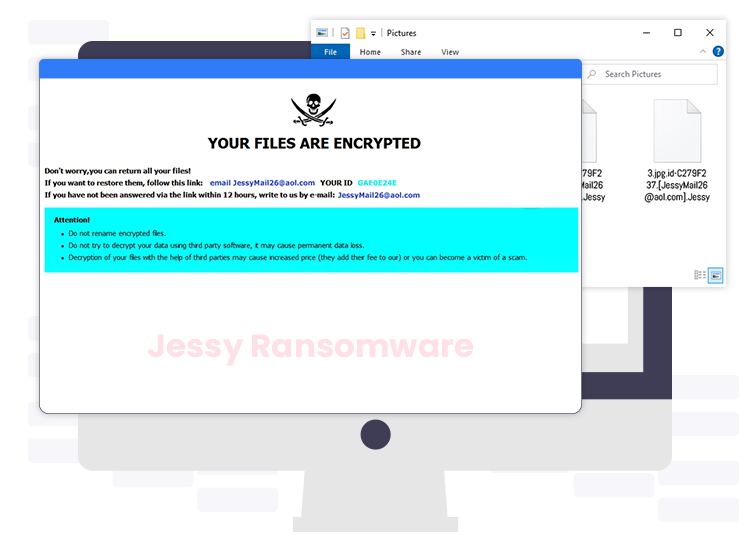 Jessy ransomware is the latest file-encrypting virus found in the wild by malware researchers. Keep on reading to know what it is, how you get it, and what to do to protect against it.
Ransomware is a form of malware that attempts to threaten a number of individuals and organizations in the scariest way possible. It operates by preventing its victims from accessing their files or system until the demanded ransom amount is paid. 
What is JessyRansomware?
Jessyis the name of a malicious program that belongs to a well-known Dharma ransomware family. Immediately after penetration, it encrypts user files of various formats (e.g., multimedia, work documents, archives, etc.) and demands a ransom payment to decrypt them. It also changes the name of every encrypted file by appending the ".[JessyMail26@aol.com].Jessy" extension.
Once the encryption process is finished, it creates a ransom note named "FILES ENCRYPTED.txt" and places it into every folder that contains encrypted files.
The ransom note generated by Jessy ransomware usually contains details such as an email address (JessyMail26@aol.com) to establish contact with cybercriminals, the price of a decryption key/software, etc. 
Jessy Ransomware: Distribution Techniques
Below are some of the most common ways through which malicious hackers can spread ransomware-type programs such as this one. 
Malicious spam campaigns
Exploit Kits
Fake software updates
Pornographic websites
Peer-to-Peer (P2P) networks
Flaws of outdated or unpatched programs
How to Remove Jessy Ransomware? 
The ransomware attacks have only grown into a big number over recent years, targeting both, individuals as well as the organizations' critical data. Scanning your computer system regularly with a trusted and powerful anti-malware tool is the best way to deal with ransomware-type infections and other harmful malicious threats.
Also, always keep in mind that in order to protect your activities from online threats, every step counts. The precautions taken against them right from the beginning are unparalleled. In light of this, we have below shared a few important cybersecurity tips that you should follow to protect your privacy from malicious hackers.
Keep your internet browsers, applications, and operating system updated at all times.
Use strong and hack-proof passwords.
Do not open or download email attachments from unknown or untrustworthy sources.
Backup your important files or folder to external storage devices.
Avoid using free public Wi-Fi networks or unfamiliar hotspots.