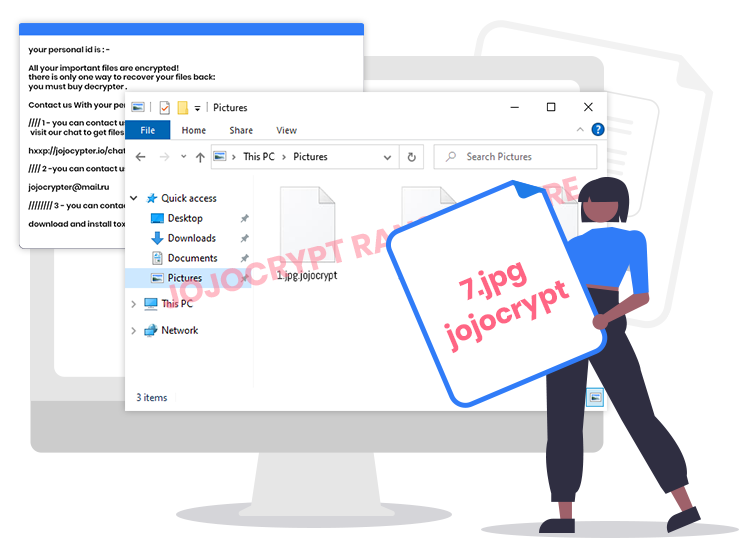 JoJoCrypt is the name of a malicious software classified as ransomware. Users infected with JoJoCrypt ransomware fail to access or open files stored on their systems and receive ransom demands for the decryption tools.
If you want to learn how to remove JoJoCrypt ransomware from your computer, then you've come to the right place. Through this guide, will tell you everything about this nasty virus; how it works, who it targets, how it gets on your PC, what to do to prevent it.
What is JoJoCrypt Ransomware?
This is a malicious program mainly designed by cybercriminals to extort tens of thousands of dollars from Windows users, either by locking their personal files or by locking the system's screen.
Like VIPxxx, Ncovid, Crapsomware, and several other ransomware viruses, JoJoCrypt not only encrypts victim's files (such as images, office documents, archives, audios, videos, etc.) but also renames them.
It changes the name of all affected files by appending the ".jojocrypt" extension. For instance, JoJoCrypt renames a file originally named "1.mp3" to "1.mp3.jojocrypt", "2.mp3" to "2.mp3.jojocrypt", and so on. 
After the encryption process is finished, JoJoCrypt shows a special "how to recover your files.txt" file (ransom note) every time the victim attempts to open a compromised file.
The ransom note usually contains detailed instructions on how to contact the ransomware creators and pay a ransom fee, in exchange for access to data.
JoJoCrypt Ransomware: Distribution Techniques
Below we have listed a few of the most popular techniques that hackers exploit to infect your computer systems/ networks with ransomware and other malware infections.
Phishing emails or malicious attachments
Drive-by download
Malicious URLs or advertisements
Pornographic websites
Pirated software
Flaws of unpatched software programs
How to Remove JoJoCrypt Ransomwar?
Installing and running an automatic scan with a trustworthy anti-malware solution is the easiest and most effective method to delete JoJoCrypt ransomware and other deadly infections from the infected host computer. 
5 Important Ransomware Prevention Tips
You need to focus on preventing ransomware attacks from happening in the first place. You can do so by following the prevention tips listed below.
Keep your Windows computer and apps always updated.
Refrain yourself from opening email attachments that look dubious.
Take a backup of your most valuable files and folders to an external hard drive.
Only download files/apps/plugins from sites you trust.
Create strong and unique passwords for each of your accounts.