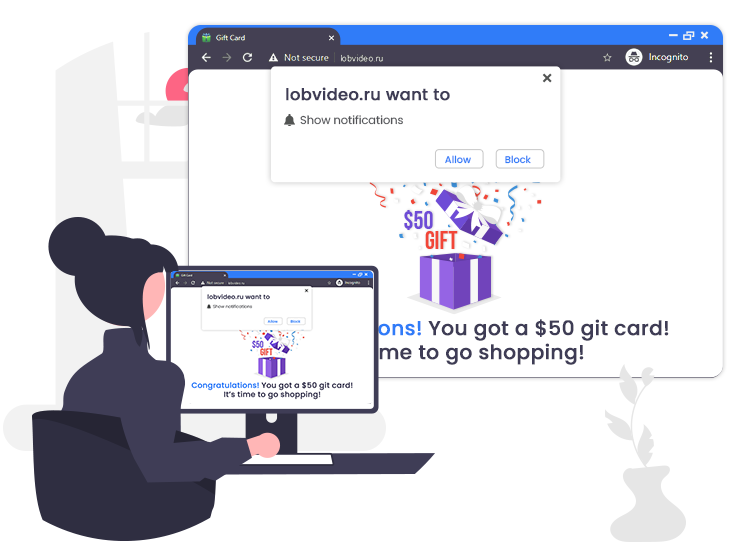 Lobvideo.ru pop-up ads come from a website crafted to generate revenue from the pay-per-click (PPC) advertising technique. The creators of this domain receive money every time pop-up advertisements sent by it are clicked by the users. In order to trick visitors into clicking the "Allow" button, it shows various misleading prompts. When the button is clicked, it lets the Lobvideo.ru site send push notifications directly to their desktop or mobile phone screens, even when the internet browsers are not in use.
If you've accidentally accepted Lobvideo.ru notifications and started receiving annoying pop-up adverts in the lower right corner of your screen, then this guide can help you remove or block them safely.
What is Lobvideo.ru? 
Lobvideo.ru is a rogue web portal that aims to push its notifications straight to users' screens using social engineering techniques. There are thousands of such scam sites on the Internet; Bestclevercaptcha.top, Dating-meet.top, and Gettingyourcontent.com are just a few examples. Usually, websites like Lobvideo.ru reach your computer using deceptive advertisements, other shady domains, or adware applications that are already on your computer. 
If you ever land upon such rogue pages, you should close them immediately. Visitors who have accepted the Lobvideo.ru push notifications reported a huge count of intrusive ads. They start popping up directly on the screen after that. These advertisements generally promote fake gift scams, online web games, fraudulent updaters, adult sites, dubious browser extensions, and unwanted programs. 
How to Remove Lobvideo.ru Pop-up Ads from PC?
In order to remove Lobvideo.ru notifications and annoying pop-up adverts, follow the instructions given below.
Note: Steps may vary depending on which browser you are using.
Google Chrome:
Go to the right upper corner of the Chrome browser screen and click on the three vertical dots icon. Then, select the Settings option from the menu that shows up.
Now find and select the Site Settings > Notifications option.
At last, you have to look for the Lobvideo.ru URL, click the three dots icon beside it, and then select the Remove option.
After the successful implementation of the above steps, try running a full system scan using a powerful antivirus or anti-malware program to check for and remove malware and other threats.