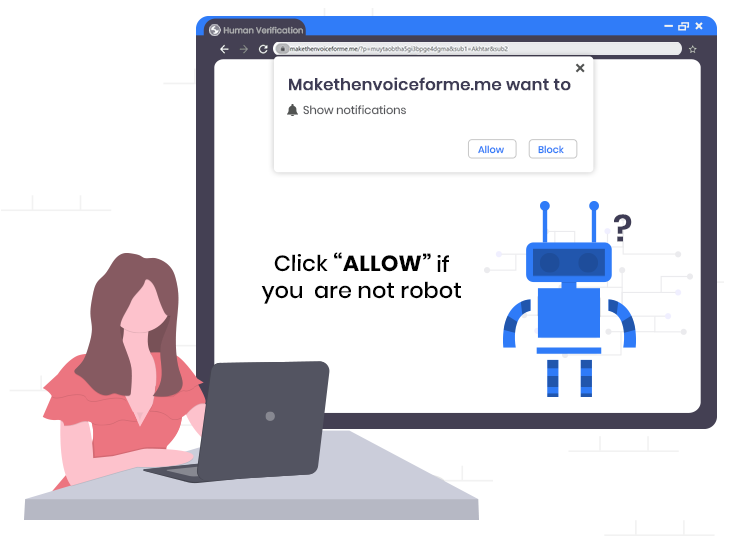 Makethenvoiceforme.me pop-up ads come from a rogue website, which operates by luring innocent visitors into subscribing to its push notifications so that it can deliver undesirable pop-up advertisements directly to their browser or desktop. As a rule, these Makethenvoiceforme.me pop-up advertisements are used to promote giveaway scams, adware software bundles, adult web pages, malicious web browser extensions, and unwanted programs.
If you don't know how to remove Makethenvoiceforme.me pop-up ads from your computer, then this article can help you. In this article we will tell you everything about the Makethenvoiceforme.me push notifications adware; how it gets on your PC, what it tries to do, and finally removal instructions.
What is Makethenvoiceforme.me?
According to cybersecurity professionals, Makethenvoiceforme.me is a website that uses social engineering methods to deceive users into signing up for its push notifications feature. More examples of deceptive websites like Makethenvoiceforme.me are Luckymedia.surf, Gologramsfoundinteresting.me, and Robotcheckily.online.
The important thing to note here is that users rarely access them intentionally. Most get redirected to Makethenvoiceforme.me and similar websites when they click on an intrusive advertisement, visit other shady websites, or due to already installed potentially unwanted applications (PUAs).
Typically, this and other rogue webpages of this kind uses deceptive tactics (e.g., fake CAPTCHA verification, clickbait, etc.) to trick unsuspecting visitors into accepting malicious push notifications via the web browser.
How to Remove Makethenvoiceforme.me Pop-up Ads
Follow the step-by-step instructions shared below to disable Makethenvoiceforme.me pop-ups from the Google Chrome browser. 
Open the Chrome main menu by clicking on the three vertical dots icon in the top-right corner.
After that, go to the Settings > Site settings > Notifications.
Click the three dots button on the right-hand side of Makethenvoiceforme.me site and other rogue web pages in the Allow section, and then click on Block or Remove option.
7 Important Tips for Safe Web Browsing
Here are the seven most important cybersecurity tips that can help you mitigate the risk of cybercrime and provide a safe and secure web browsing experience.
Install a strong antivirus or anti-malware software and keep it up-to-date.
Be wary of opening email attachments from unsolicited or untrustworthy senders.
Use a virtual private network (VPN) to secure your web traffic.
Use two-factor authentication (2FA).
Don't use public Wi-Fi or unknown hotspots networks.
Make your passwords strong, unique, and difficult to figure out.
Install operating system updates as soon as they're released.