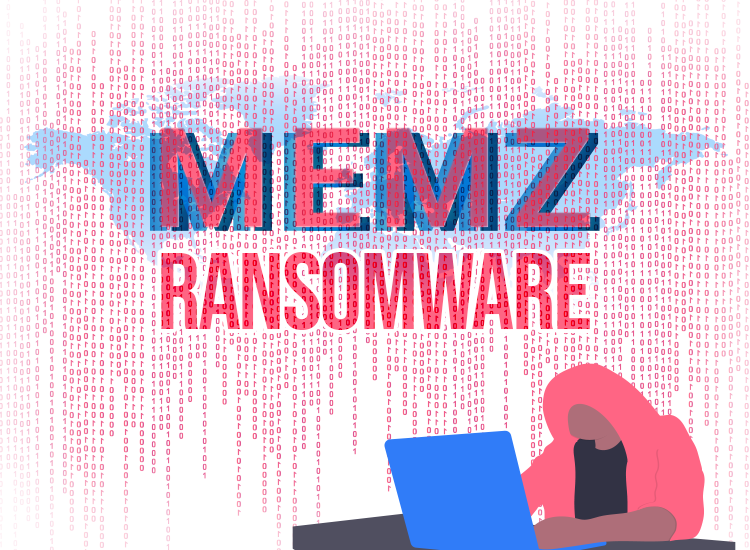 MEMZ ransomware is a hazardous file-encrypting malware infection. It is created by hackers mainly for the purpose of blackmailing users and extorting a huge sum of ransom money. Once inside, this ransomware-type malware employs powerful encryption algorithm techniques (symmetric or asymmetric) to lock or encrypt all the personal files of a victim, including images, audios, videos, pdf, games, documents, databases, and other formats of files. 
If you are also a victim of the MEMZ virus attack, you can follow our guide to the end to learn how to delete it and recover your files without paying ransom money to the attackers.
What is MEMZ Ransomware?
MEMZ is the name of a ransomware-type program, which is designed by cyber crime master minds to encrypt stored files and demand a ransom fee for the decryption.
While encrypting the victim's files, it appends the ".MEMZ" extension at the end of the original file names. For example, a file with the original name "myphoto.png" would appear as "myphoto.png.MEMZ" after the encryption process.
Afterward, the MEMZ ransomware drops a ransom note named "HOW TO DECRYPT FILES.txt" on the victimized machine. MEMZ's ransom note states that the victims' files have been locked through some powerful (e.g., AES-256) encryption algorithm. It further instructs the victims to contact the ransomware developers via grounded2019MEMZ@cock.li email address, pay $900 in Bitcoins, and then follow a Twitter user named @NyanMEMZ.
You are strongly advised to avoid contacting or paying money to the threat actors.
How Does MEMZ Ransomware Infect Your Computer?
Scammers or malware programmers employ various different techniques to invade the firewall or security of a targeted system. Below we enlist the most common and popular tactics used by crooks to spread malware infections:
Malicious spam emails
Deceptive ads or fake error messages
Software bundling
Peer-to-Peer (P2P) networks
Software cracking tools
Unofficial/untrustworthy downloading channels
How to Remove MEMZ Ransomware from PC?
If you are not a tech-savvy person, you are advised to use the automatic method over the tedious and complicated manual removal process. With the help of automated malware removal tools, you can quickly find and delete all the hidden threats like ransomware, spyware, worms, and many others.
After the ransomware virus is removed, you can use a reliable data recovery tool to retrieve your lost or deleted files.