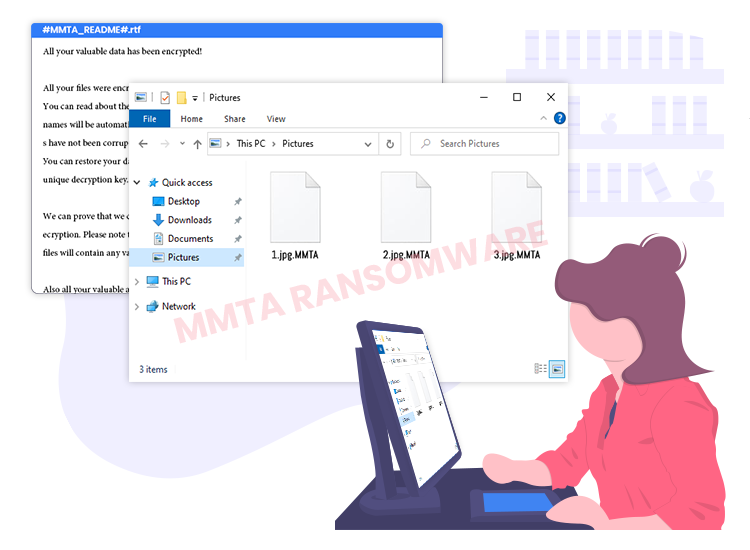 The guide below will tell you how MMTA ransomware gets on your computer and what you can do to protect yourself against it.
You know you have been attacked by MMTA ransomware when you find that all your personal files stored on a computer system (images, audios, videos, archives, work documents, and much more) have a unique ".[MorganBel23@yahoo.com][ID].MMTA" extension and cannot be opened or changed.
MMTA ransomware is a vicious computer infection that is designed to use hybrid RSA and AES ciphers to render the victims' personal files inaccessible and unusable until they pay ransom money (in the form of Bitcoin or other cryptocurrencies) to the cyber crooks behind it.
If you have no idea how to deal with this nasty ransomware and save your valuable files, then read this article with great attention.
What is MMTA Ransomware?
This is the name of a malicious program that is classified as a ransomware threat. Like Venus, Yajoza, CALVO, and other ransomware-type infections, it operates by blocking access to user files by encrypting them and appending its extension (".[MorganBel23@yahoo.com][ID].MMTA") to the filenames. In other words, it renames a file named "1.mp4" to "1.mp4. MorganBel23@yahoo.com][ID].MMTA" – following encryption. 
When the encryption procedure is done, MMTA ransomware creates a text file titled "#MMTA_README#.rtf" as its ransom note and drops it in every folder containing encrypted data.
The generated ransom note states that all of the victims' files have been encrypted. Also, it instructs the victims to contact the ransomware developers via the provided email address (morganbel23@yahoo.com, forestmem33@aol.com, or maryalawra26@gmail.com) to get further details (such as the price of the decryption tool, crypto wallet address, etc.).
It is worthwhile to note that cybercrime masterminds behind such types of threats may not send a valid decryption key/software even after being paid. Therefore, you are strongly advised to avoid contacting or paying ransom money to the attackers.
How Does MMTA Ransomware Infect Your Computer?
Ransomware-type infections like MMTA can infiltrate victims' computers with the help of the following methods:
Malicious email attachments
Intrusive advertisements campaigns
Freeware download pages
P2P (Peer-to-Peer) networks
Cracking tools
Shady/scam/unofficial websites
How to Remove MMTA Ransomware from PC?
You can delete this pesky malware and other forms of malware infections (spyware, adware, worms, rootkits, etc.) by simply running a scan on the compromised system with the help of a powerful antivirus or anti-malware software.