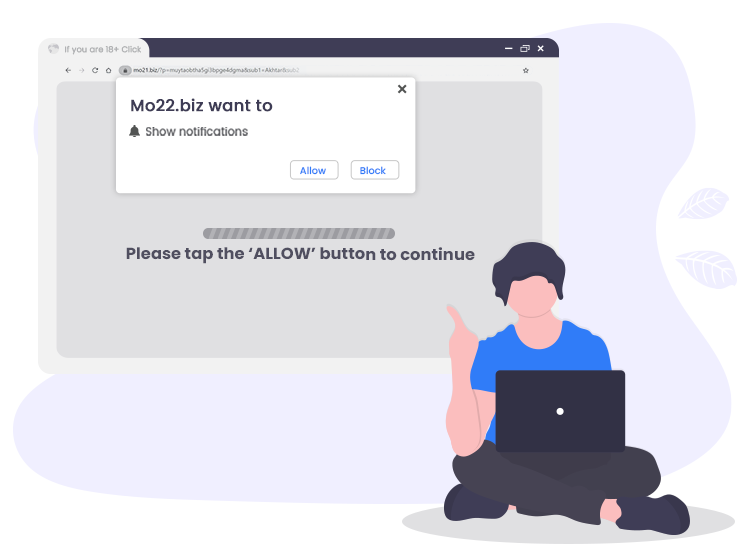 The Mo22.biz pop-up ads originate from a rogue website that tries to persuade users into subscribing to its browser notifications, same as Topfreenewsfeeds.com, Nistartedwo.biz, Pesoaniz.com. Once subscribed, the web page starts sending deceptive pop-up advertisements in the bottom right-hand corner of the desktop screen even when your web browser is closed.
So, if you already accepted Mo22.biz pop-up ads, we suggest you to remove the notifications subscription as quickly as possible. Keep on reading to learn how to get rid of annoying Mo22.biz pop-up ads from your computer.
What is Mo22.biz?
Mo22.biz is a tricky website associated with an adware application. The site is designed to present visitors with dubious content and/or redirect them to various other affiliated websites that promote fake software updates, suspicious browser add-ons or extensions, sponsored ads, prize scams, potentially unwanted applications (PUAs), etc.
An important point to note here is that the websites like Mo22.bizare rarely visited intentionally. Most users get redirected to them by other untrustworthy/ malicious sites or by intrusive advertisements. 
When visited, Mo22.biz shows a "Show notifications" alert with a misleading message (for example, "Click Allow to confirm you are not a robot") to gain the users' attention and make them press the allow button.
How to Remove Mo22.biz Pop-up Ads
Below we have provided step-by-step instructions on how to remove the push notifications from the Google Chrome browser.
In the top right corner, click on the Customize and control Google Chrome menu (three vertical dots), and then select the Settings option.
Go to the "Privacy and security" section and click on the "Site settings".
Then, select the "Notifications" option located in the Permissions section.
In the Allow section, click on the three vertical dots button next to Mo22.biz and other rogue websites, and then hit the "Remove" or "Block" button.
Apart from implementing the aforementioned steps, you are advised to follow the below-mentioned internet security tips for safer and more secure web browsing.
Install a powerful antivirus/ anti-malware software and keep it current.
Do not open or download email attachments that come from unknown sources.
Keep web browsers, software applications, and operating systems updated at all times. 
Stop connecting to free public Wi-Fi networks or unknown hotspots.
Backup your valuable data to encrypted cloud storage or external devices.