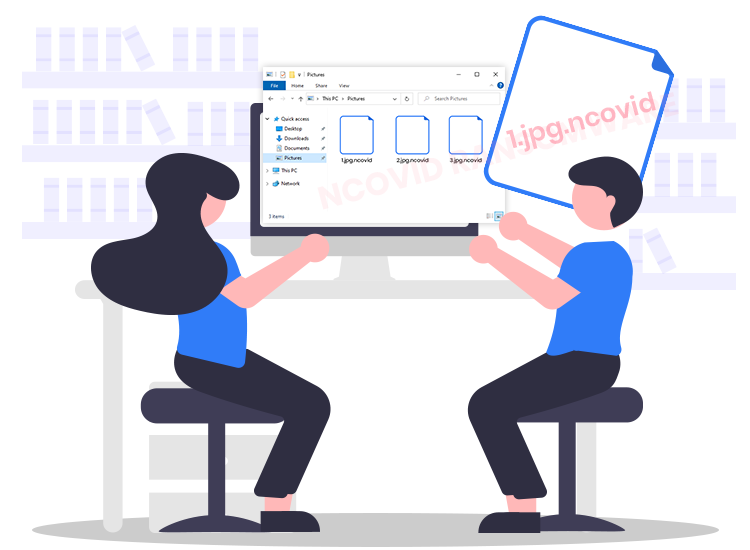 A ransomware virus called Ncovid has been recently detected in the wild by cybersecurity researchers. Ncovid ransomware is a new variant of the malevolent file-encrypting RIP lmao ransomware. 
This ransomware-type program is created by cybercriminals to plague computer systems so that it can lock various types of user data (e.g., images, audios, videos, work documents, multimedia, archives, etc.) and extort a ransom fee from victims, in exchange for access to data.
If you want to learn all there is to know about this particular piece of ransomware, you've landed on the right page. Keep on reading to know what it tries to do, how you get it, and what to do to protect against it.
What is Ncovid Ransomware?
Ncovid ransomware is a deadly computer infection that is designed by malware authors to encrypt stored files and demand payment for the decryption tools. Following secretly infiltrating the targeted system, it encrypts the victim's files using military-grade cryptography algorithms and adds the ".ncovid" extension to the name of each compromised file. For example, it renames a file originally named "1.mp3" to "1.mp3.ncovid", "2.mp3" to "2.mp3.ncovid", and so on.
Immediately after the completion of encryption, Ncovid ransomware creates a special text file named "___RECOVER__FILES__.ncovid.txt" (ransom note) and drops it in all folders that contain compromised files.
This ransom-demanding message informs victims about the encryption and compels them to contact the ransomware authors within some time limit if they don't want to lose their valuable files forever.
Ncovid Ransomware: Distribution Techniques
Below we have listed some of the most common techniques that malicious hackers use to distribute dangerous computer infections.
MalSpam
Malvertising
Drive-by download
Illegitimate software/ system updates or cracking tools
Pornographic websites
Peer-to-Peer sharing networks
Flaws/ bugs of obsolete programs
How to Remove Ncovid Ransomware from PC?
To completely delete Ncovid ransomware and other malware infections without implementing several time-consuming manual steps, you can perform an automatic scan with a strong and up-to-date antivirus/ anti-malware software on the compromised PC.
Tips to Prevent Ransomware Attacks in Future
Below we have shared some important cybersecurity tips that can help you protect your computer and data from devastating ransomware attacks.
Keep your OS and apps always updated.
Try not to download unexpected or suspicious email attachments.
Try backing up your most valuable files to an external hard drive.
Avoid downloading files from unknown or dubious sources.