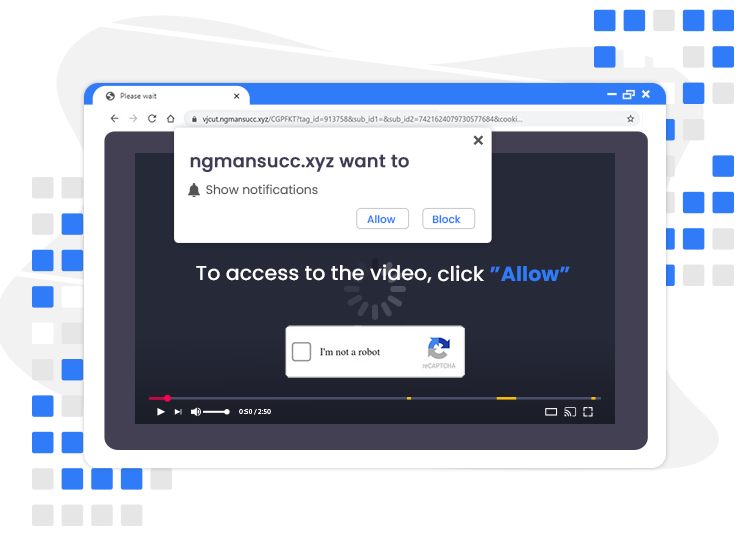 Ngmansucc.xyz pop-up ads come from a deceptive web portal designed with the purpose to generate advertising revenue through a pay-per-click marketing scheme. For this, it tricks you and other unsuspecting visitors into subscribing to the push notifications service. To accomplish this task, the site shows various misleading prompts, depending on the visitors' geo-location.
Most of the time, rogue domains like Ngmansucc.xyz urge people into accepting push notifications by stating that the "Allow" button needs to be pressed to prove that they are not a robot, watch a video, download a file, connect to the Internet, etc. When pressed, the site starts sending out a huge amount of pop-up advertisements straight to the users' screen even when the internet browsers are closed.
If you have accidentally subscribed to Ngmansucc.xyz push notifications, don't panic. You can easily block or remove them from your web browser by following the instructions provided in the article below.
What is Ngmansucc.xyz?
Ngmansucc.xyz is a push notification spam domain that is generally designed to fill desktop screens with misleading ads and redirect victims to other untrustworthy or malicious web pages. There are thousands of pages on the internet that share the same qualities; Lobvideo.ru, Bestclevercaptcha.top, Dating-meet.top are just a few examples.
One more thing that these perilous web domains have in common is that computer users do not open them intentionally. Most of the time, users get redirected to them because of an adware infection, mistyped URL address, or intrusive adverts.
Users are strongly advised against accepting push or browser notifications from the rogue sites like Ngmansucc.xyz. Because people who accepted have reported seeing lots of undesired Ngmansucc.xyz ads on the desktop.
How to Remove Ngmansucc.xyz Pop-up Ads from PC?
Follow the instructions given below to block or remove Ngmansucc.xyz notifications and pop-up advertisements from your internet browser. 
Note: The steps mentioned below may vary from browser to browser.
Google Chrome:
Select the three dots icon (Chrome's main menu button) present on the right corner of the screen.
Now click on Settings > Site Settings > Notifications.
Lastly, click the three dots icon present on the right-hand side of Ngmansucc.xyz site, and then click on Remove.
After executing the aforementioned steps, try scanning your infected device with a powerful and dependable anti-malware software to check for and remove hidden malware infections.