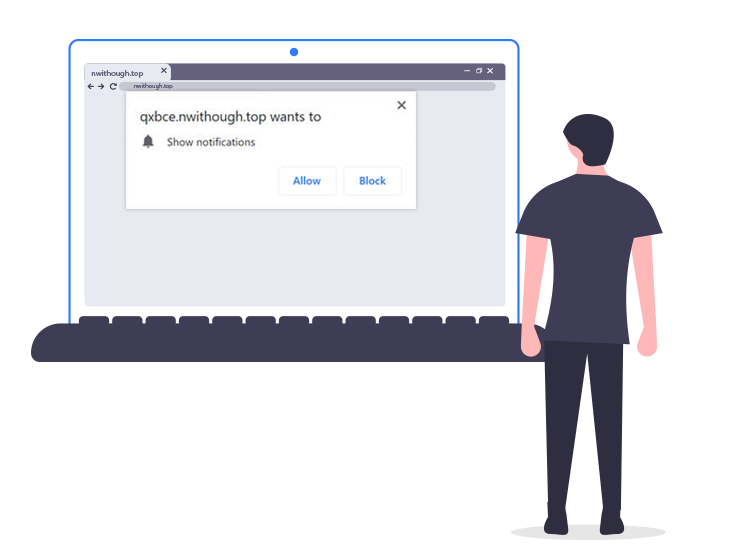 Nwithough.top is one such actively spreading threat on the Internet. In general, it is a malicious website that is designed to trick users into subscribing to its push notifications so that it can send shady advertisements directly to your desktop.      
The advancement of online-based technologies such as digital media and platforms has given a major boost to Internet marketing. However, recent research shows that cybercriminals are exploiting various marketing strategies (e.g., online ad campaigns) to promote fake or malicious products/services or generate revenue via pay per click mechanism. 
If you want to know more about the Nwithough.top pop-up redirect virus, the post will give you all the information about what it is, what are its consequences, and several tips on how to remove it from your computer. 
What is Nwithough.top pop-up?
As mentioned above, Nwithough.top is a kind of malicious website that users do not visit on purpose/intentionally. Nwithough.top as well as various other rogue websites, might appear on new tabs of your web browser if you have an adware program installed on your laptop or desktop computer. Below is the message that Nwithough.top site shows to trick users into subscribing to their notifications.
'Nwithough.top wants to Show notifications
Click Allow to continue'
If you click on the "Allow" button, it will start showing various intrusive ads (e.g. pop-ups, discount deals, banners, online surveys, etc.) on your computer. Hence, it is strongly recommended to avoid clicking on the 'Allow' button. 
Consequences of Nwithough.top Redirect Virus
Here are some of the common symptoms that might reflect the presence of adware on your system.
Web browser closes or quits unexpectedly.
Frequent redirects to shady web domains and unreliable ads.
Slow Internet browsing speed.
Fake security warnings and notifications to update your system or install software updates.
Changes in the default browser settings.
Automatic download of executable (.exe) files.
Poor or slow operating system performance.
How to remove Nwithough.top pop-up ads from your computer
Below are the simple steps to prevent Nwithough.top from sending pop-up notifications:
On the Google Chrome browser, click on the three vertical dots icon and then select the Settings option.
Scroll down and click on the 'Site Settings' under the 'Privacy and security' section.
Then, click on the 'Notifications' option under the 'Permissions' section.
Look for the Nwithough.top site in the Allow section and click on it.
After that, click on the 'Remove' button.