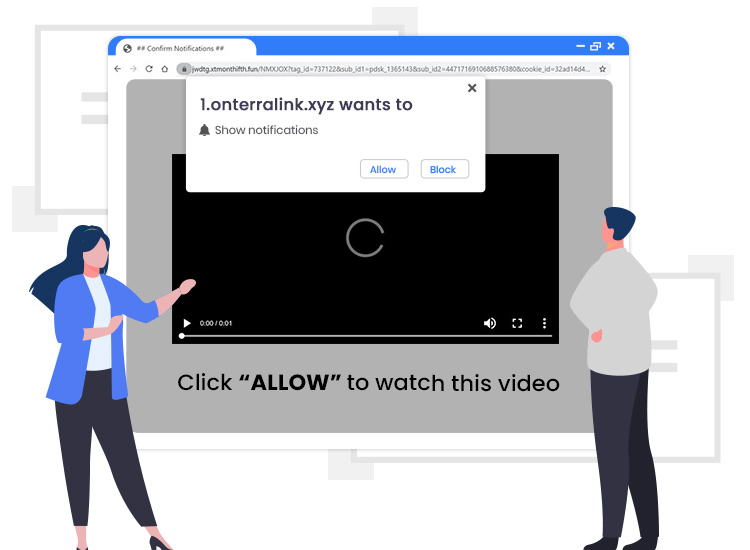 The cybersecurity specialists have determined that Onterralink.xyz pop-up ads come from a precarious web domain that various adware-type apps use to deceive visitors into subscribing to its push notification service. Its main motive is to push a huge number of unwanted adverts onto the users' desktop or browser screen and redirect them to other untrustworthy, affiliated pages.
This allows cyber crooks to increase visitors on their websites and generate advertising revenue via PPC (pay-per-click). The advertisements displayed by the website usually promote prize & lottery scams, free web games, adult websites, adware bundles, and suspicious browser extensions.
Like other unsuspecting visitors, if you also subscribed to Onterralink.xyz push notifications inadvertently, then keep on reading to learn how to block them.
What is Onterralink.xyz?
This is a website that uses various deceptive techniques to lure computer users into registering for its browser notification spam. The site is usually used by scammers to deliver a huge count of undesirable pop-up advertisements directly to the victims' desktop or the internet browser.
There are countless rogue web pages such as this one on the Internet. A couple of examples are Thankyouf.fun, News-shop.xyz, and Takhiza.com.
Once websites like Onterralink.xyz get visited, they display a "Show Notifications" pop-up box stating that the user should press the 'Allow' button in order to access the content of the website, watch a video, download a file, and so on. If clicked, the website gets the user's permission and starts sending tons of unwanted and intrusive advertisements, links to shady pages, and so on.
How to Remove Onterralink.xyz Pop-up Ads from PC
Follow the below-mentioned steps to remove Onterralink.xyz pop-up advertisements from your Google Chrome browser.
Go to the right upper corner of your Chrome browser window and click on the menu icon (it looks like three vertical dots).
In Chrome's main menu, choose the Settings option.
Next, go to the Privacy and security section and select the Site settings option.
Then, locate the Notifications option and click on it.
Lastly, click on the three dots button placed alongside the Onterralink.xyz site, and then choose the Remove option.
In addition to the above steps, users are strongly recommended to install a strong security program (antivirus or anti-malware) on their computer systems to protect themselves from all kinds of malware infections lurking on the Internet.