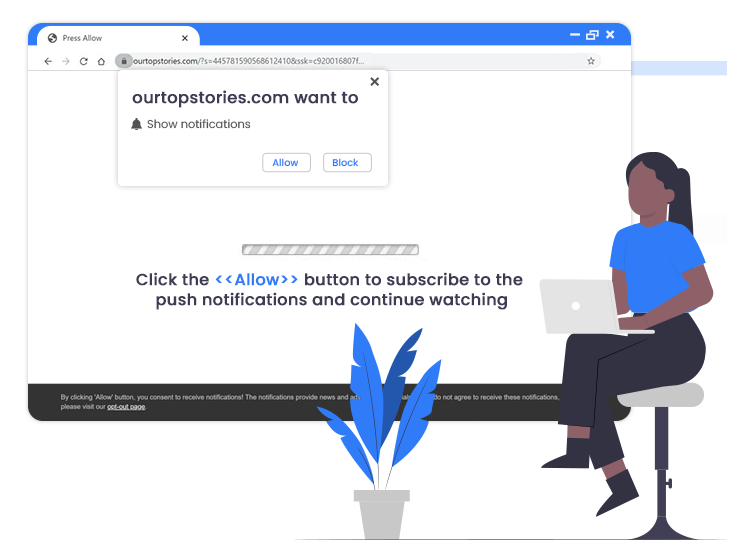 The hackers are coming up with new and advanced techniques for hacking the user's device, Ourtopstories.com pop-up ads is one of those.
We all are aware of the increasing rate of cybercrime in today's world. Basically in these types of crimes, the user's crucial information is unauthorisedly accessed by a third party generally called a Hacker. 
These ads appear in the form of a notification on the user's PC and when the user clicks on that ad, it takes the user to a website that is under the control of the scammer or the hacker.
A piece of information regarding these types of ads and different ways to secure your PC from these ads is given below.
What is Ourtopstories.com?
Ourtopstories.com is a type of advertisement or notification asking the user to subscribe to a particular channel to watch a video or to click on the Allow button to download a file. These are in the form of shady advertisements, attracting the users by displaying exclusive offers or sales.
Once the user clicks on the allow button, he/she is forcefully redirected to some hazardous websites. These sites try to collect user's personal information by different types of viruses and malware into the device of the user.
Thus it becomes very important for all the users to remove these Ourtopstories.com pop-up ads from the web browser.
How to Remove Ourtopstories.com Pop-up Ads from PC?
Ourtopstories.com pop-up ads can be easily removed from your PC, with the help of the control panel.
1) Go to the control panel of your Windows PC by typing Control Panel on the Windows search box.
2) Select the Programs option from the window and click uninstall a program.
3) Select all the doubtful and unwanted programs from the list and uninstall all of them.
This is the first way by which you can remove these pop-up ads from your computer device.
For the next method, you need to go to the web browser of your computer and perform the following steps, (Taking an example of Google Chrome)
1) Visit the settings page of Google Chrome and press the Customize and control Google Chrome menu button.
2) Now go to the Privacy and Security option on the page.
3) Click on the Notifications section.
4) Finally, click on the three-dot button next to Ourtopstories.com and select the option of Block notifications.
Refresh the page and the Ourtopstories.com ads will be removed from your PC.