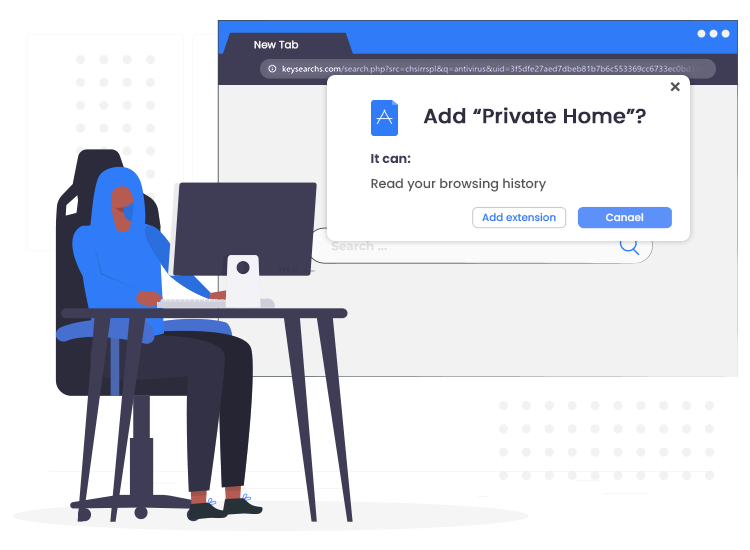 Private Home browser hijacker is a rogue software, usually a web browser plugin or add-on, which causes modifications in web browsers (e.g., Chrome, Firefox, and Edge) settings without the knowledge or consent of the users. It belongs to the family of browser hijackers. More examples of programs that are more or less similar to Private Home are Stay Web, Media Club, and Bright Tab. 
Usually, users do not download and install browser hijackers knowingly. Due to this reason, Private Home and other programs of this type are also known as potentially unwanted programs (PUPs).
Keep on reading to learn how to remove this pesky browser hijacker from your computer and revert the changes made to your web browsers. 
What is a Private Home hijacke?
Private Home is a browser hijacker that is designed to replace the existing home page and/or a new tab with some bogus search engine (keysearchs.com). The end goal of developers behind Private Home is to generate pay-per-click revenue by redirecting user's search queries to various affiliated and/or shady advertisement-related websites.
Apart from causing frequent redirections, the Private Home browser hijacker is capable of collecting the following sensitive as well as browsing-related information:
Entered search queries
URLs visited
IP address
Geolocation
Login credentials
Credit card details, etc.
Common Symptoms of Private Home Browser Hijacker
If you have this browser hijacker installed on your computer, then you may notice the following symptoms:
The existing search engine and the home page are changed to keysearchs.com.
Web browser is showing misleading results.
Browser search queries are keep getting redirected to unfamiliar websites.
Web pages taking longer than expected to load.
Excessive intrusive advertisement pop-ups or banners showing up in the search results.
How to Remove Private Home Browser Hijacker?
Installing and running an automatic scan with a powerful antivirus or anti-malware software on the affected system is the safest way to get rid of this particular browser hijacker and other programs of this type. 
Furthermore, users are advised to follow the below-mentioned internet safety tips to protect against browser hijackers, ransomware, and other forms of malware.
Carefully read the end-user license agreement and all terms and conditions before downloading/installing any software.
Don't open or download unsolicited email attachments.
Always keep your computer's operating system and web browsers up-to-date.
Create strong, unique, and hard-to-guess passwords.