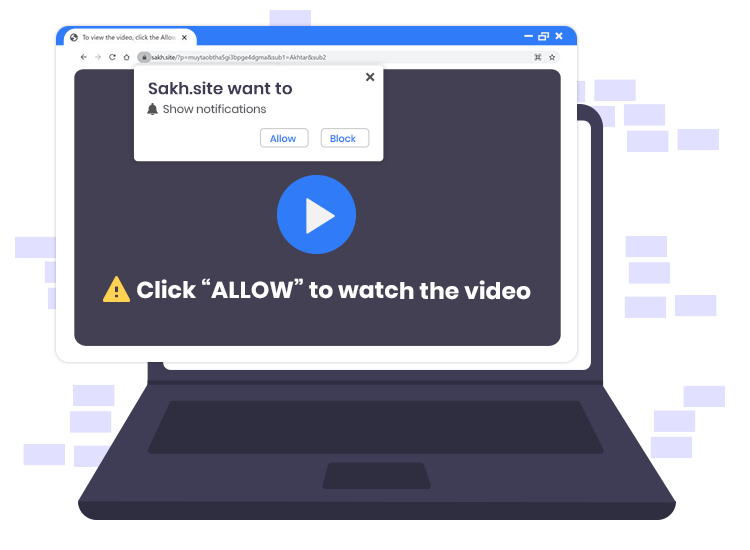 According to cybersecurity researchers, Sakh.site is the address of a misleading webpage that uses social engineering tactics to deceive users into signing up for its push notifications so that it can send unwanted advertisements in the form of pop-ups straight to the victim's desktop screen. These pop-up advertisements are used to promote adult or shady websites, prize scams, fake software updates, suspicious web-browser add-ons, and unwanted programs.
Keep on reading to learn how to remove Sakh.site pop-up ads and notifications from your browser in a matter of seconds.
What is Sakh.site?
As said above, this is a notorious website designed to trick you and other unsuspecting visitors into enabling their browser notification spam. The Internet is full of scam websites; Makethenvoiceforme.me, Gologramsfoundinteresting.me, and Luckymedia.surf – are just a few examples similar to Sakh.site pop-up ads. 
The important thing to note here is that users open/ visit web pages like Sakh.site unintentionally. Typically, these scam pages get opened via other shady websites, intrusive advertisements, or installed PUAs (potentially unwanted applications).
When users open/visit a rogue website such as this one, they get greeted with a 'Show notifications' prompt that urges them to click on the 'Allow' button in order to access the content of the webpage, enable flash player, verify they are 18+, watch a video, and so on.
How to Remove Sakh.site Pop-up Ads from PC
Here are detailed instructions on how to disable Sakh.site pop-up ads and notifications from your Google Chrome browser. 
In the top-right corner, click on Chrome's main menu button (it looks like three vertical dots).
Scroll down to the Settings option and click on it.
Then, go to the Site settings > Notifications.
Now locate the Sakh.site under the Allow section.
Unsubscribe notifications from Sakh.site and other suspicious URLs by clicking on the three vertical dots button next to each and selecting the Block or Remove option.
5 Helpful Tips for Safer Browsing on the Internet
Here are a few basic yet most important cybersecurity tips that can help you protect your online identity and reduce the risk of a security breach.
Keep your security software (e.g., antivirus or anti-malware), browsers, and other installed apps always up-to-date.
Be wary of unsolicited emails and attachments from untrustworthy senders.
Use virtual private networks (VPNs) to encrypt your data and hide browsing activity on the internet.
Use two-factor authentication (2FA or TFA).
Make your passwords as strong as possible.