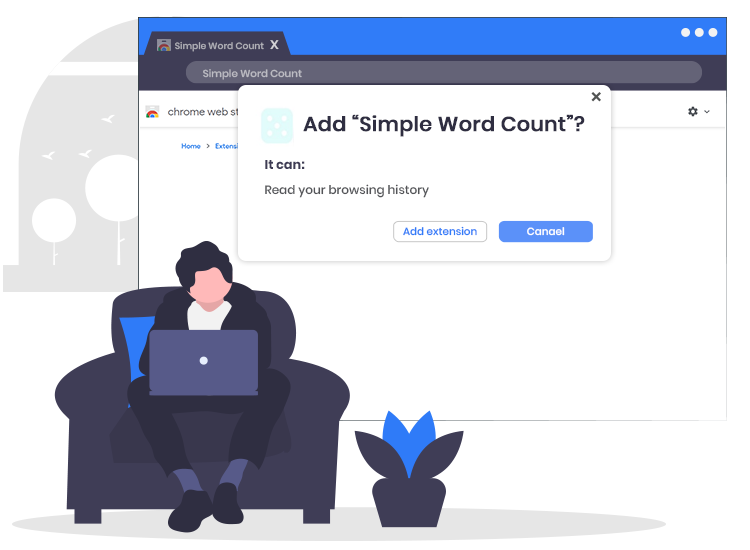 Every day, hundreds of browser hijacking applications are being developed and spread on the internet and Simple Word Count browser hijacker is one of them. 
Web browsers serve as windows to the Internet and are used by people to search for information and interact with it.
It's a given that web browsers (e.g. Chrome, Firefox, Edge) play a significant role in enhancing the user's web surfing experience. However, it's important to emphasize that hackers can also inject malware into the computer system and takes over the web browser's settings to bring users to websites that are used to collect critical information about them.
According to IT security specialists, Simple Word Count is a potentially unwanted application (browser extension) that modifies the default browser settings without the user's permission to promote a fake search engine (fxsmash.xyz address). 
Keep reading this article to the end to know everything about this browser hijacker; what it is, how it works, and what to do to remove it and reset your web browser to its original settings.
Simple Word Count Browser Hijacker: Everything You Need to Know
This is a notorious computer infection that is created by a team of vicious malicious actors to make certain modifications in browser settings in order to promote an address of a fake search engine. 
The idea is to display intrusive advertisements in the search results and redirect affected users to various affiliated web pages. This allows cybercriminals to increase traffic to their fraudulent web pages and boost advertising revenue.
Common Symptoms
Here are some of the signs that you may notice if your device is infected by a Simple Word Count browser hijacker.
Address of your homepage, default search engine, and a new tab are being changed without your permission.
Receiving a huge count of advertising banners and pop-ups in the search results.
Unwanted programs and suspicious browser extensions/plug-ins are being installed without your consent.
Search queries are being redirected to dubious websites.
How to Remove Simple Word Count Browser Hijacker from PC?
Browser hijackers are fairly easy to remove compared to other malware infections. Performing a deep scan using a strong antivirus or anti-malware software can help you delete all the associated files with Simple Word Count browser hijacker completely and safely from the infected computer.