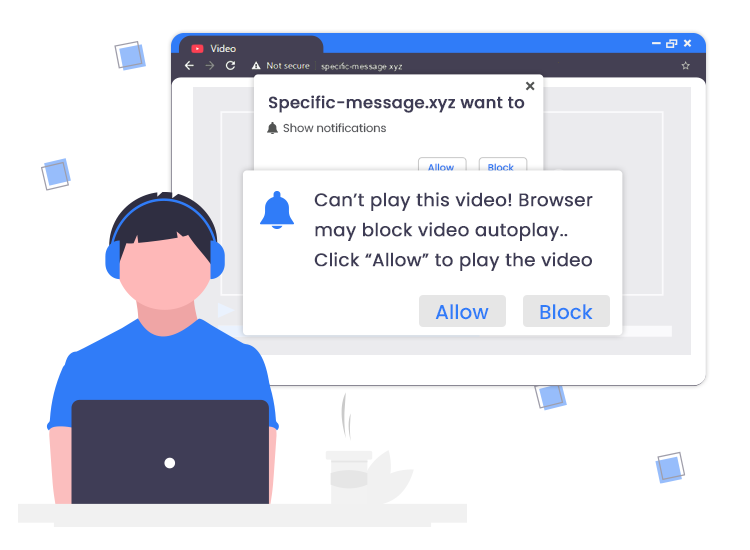 Specific-message.xyz pop-up ads come from a rogue website that automatically gets opened on your Internet browser due to adware (also known as advertising-supported software) infection. It triggers a bunch of pop-up advertisements, banners, and even pushes notifications on your browser upon loading. The malicious Specific-message.xyz domain can easily contaminate the main browser of unsuspecting visitors and start manipulating the online activities to earn a commission via a pay-per-click marketing scheme.
This type of infection can also drop malicious codes on the security vulnerable system which can bring more notorious threats and viruses. If you are also seeing undesired Specific-message.xyz pop-up ads and notifications on your computer, then this guide can help you block them and remove the adware infection safely.
What is Specific-message.xyz?
Specific-message.xyz is quite similar to Red-eye-tube.co, Summermedia.xyz, Boozepawn.com, and a great number of other websites designed to deceive innocent people into clicking on malicious ads which promote fake prize scams, adult webpages, or suspicious applications.
It is highly unlikely for websites of this type to be opened or accessed by users on purpose. Usually, pages like Specific-message.xyz are promoted through shady advertisements, phishing sites, or installed potentially unwanted applications (PUAs).
Coming to the Specific-message.xyz domain, it uses various deceptive methods (such as clickbait and fake CAPTCHA test) to trick visitors into accepting browser notifications from malicious push servers.
As soon as users land on Specific-message.xyz page, they are presented with "Show notifications" prompts asking to click on the 'Allow' button to prove that they are not robots.
Once the button is clicked, users start receiving an excessive amount of intrusive advertisements in the form of pop-ups in the right bottom corner of the desktop.
How to Remove Specific-message.xyz Pop-up Ads from PC?
You can remove Specific-message.xyz push notifications, pop-ups, and other unwanted material from your Google Chrome browser by following the simple steps shared below.
Open the Google Chrome browser on your PC. After that, copy and paste the below-written text into Google Chrome's address bar, and then hit Enter on your keyboard.
chrome://settings/content/notifications
Now, remove the Specific-message.xyz notifications by clicking the three vertical dots button next to it and selecting the 'Remove' or 'Block' option.
After removing the Specific-message.xyz pop-up ads, we recommend users scan their devices with a powerful anti-malware software to delete all the remaining hidden threats, PUPs, and adware infections.