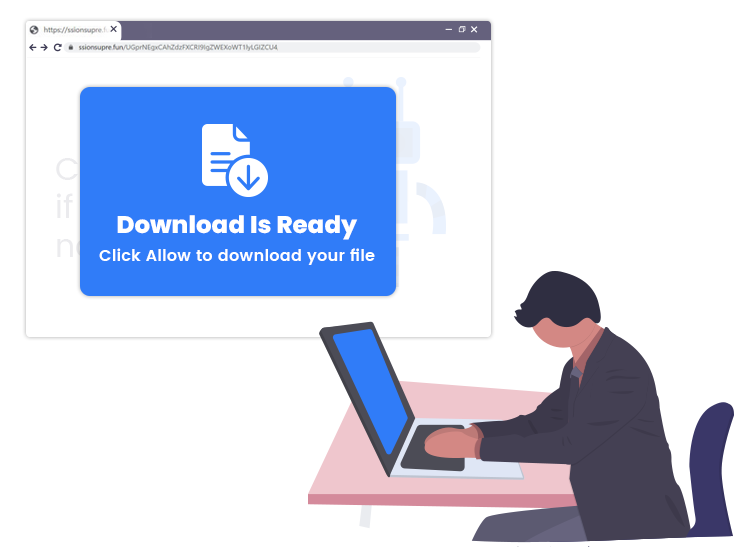 If your web browser is constantly being redirected to dubious web pages like Ssionsupre.fun, then it means you may have advertising-supported software (a.k.a. adware) installed on your computer system. Through this blog post, we will share some effective tips on how to get rid of undesirable pop-ups displayed by the Ssionsupre.fun site. Read on to know more.
What is Ssionsupre.fun?
Ssionsupre.fun is a misleading website designed by shady developers to trick users into subscribing to its push notifications so that they can send unwanted advertisements straight to your desktop or phone. Internet site creators utilize Ssionsupre.fun pop-ups to redirect traffic on their sites and generate revenue by displaying pay-per-click ads. 
When users accidentally land on the Ssionsupre.fun webpage, they usually greeted with a small pop-up window saying:
"Ssionsupre.fun wants to Show notifications
Click Allow to confirm that you are not a robot!"
Once you click on the "Allow" button, you will start seeing lots of pop-ups and unwanted advertisements on your laptop or desktop system even when your web browser is closed. These spam notifications usually promote questionable malicious toolbars, extensions, prize and lottery scams, free software updates, adult websites, etc.
Hence, to avoid getting intrusive pop-up ads from Ssionsupre.fun, it is strongly advised not to click on "agree and continue" or "allow" buttons. However, if you have already clicked on it, then do not panic as you can unsubscribe from its push notifications by following the simple instructions listed in the below section.
How to remove Ssionsupre.fun pop-up ads from your computer
Below are the step-by-step instructions on how to unsubscribe from these spam notifications.
Note: The following steps are for people using the Google Chrome browser. The steps may vary if you're using a different web browser.
Click on the Chrome menu icon (three vertical dots) available at the top right corner of your browser window, and then select the Settings option.
Under the "Privacy and security" section, choose the "Site settings" option.
Then, choose the "Notifications" option available under the "Permissions" section.
After that, look for the Ssionsupre.fun site in the Allow section, and then click on it.
At last, click on the 'Remove' button.
After performing the aforementioned steps, if you're still being redirected to the Ssionsupre.fun website, we recommend running a scan with an efficient anti-malware software to automatically locate and get rid of remove malware, trojans, adware, and other potentially unwanted applications.