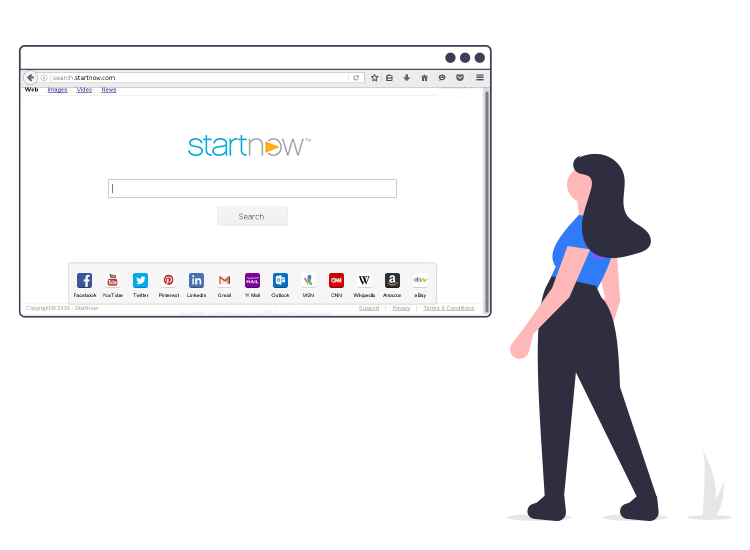 Here are a few tips on removing Search.startnow.com from your computer: While browsing the Internet through your web browser, you notice that it's taking more time than usual to load the webpages. More often than not, you blame the slow Internet speed or your internet service provider for the annoying long loading times.
Soon you realize that your homepage also doesn't look similar to the page of your default browser. The search engine's webpage URL and design and appear to be different as well.
The actual reason behind it is that your browser and internet settings are modified. This modification is due to Search.startnow.com, a malicious browser hijacker extension or program that you may have accidentally installed on your computer system while browsing the web. Now, let's dig a little deeper into what Search.startnow.com is, and what are its harmful impacts on the compromised system.
What is Search.startnow.com?
Search.startnow.com is a browser hijacker that changes the homepage and search engine of your browser to Http:// Search.startnow.com/. If your web browser or search queries are constantly being redirected to Search.startnow.com, then it is a clear indication that you have a browser hijacking extension or program installed on your device. Usually, such type of potentially unwanted programs (PUPs) comes bundled with other software (Mostly freeware) programs. Hence, when installing software from third-party websites you must always pay close attention to the terms of conditions before agreeing to it.
Harmful Effects of Search.startnow.com on PC
Here's what might happen if your computer system is infected with the Search.startnow.com browser hijacker.
Homepage of your default search engine changes to Search.startnow.com.
Irrelevant advertising banners, bogus security warnings, and popups appearing from out of nowhere.
Computer is slowing down
Allows the installation of other adware programs without the owner's permission
Tips to Remove Search.startnow.com Browser Hijacker from Your PC
The manual removal guide is quite time-consuming and may seem a bit complicated for novice computer users. Hence, we suggest you use an automatic malware removal tool to scan and remove all sorts of malware infections, and that too, without any efforts.
Apart from this, you can follow the below tips to avoid the installation of unnecessary programs, extensions, or advertising-supported software.
Always pay attention while downloading and installing freeware.
Read terms and conditions carefully before you agree to install.
Always pick the custom installation process and deselect everything that you don't find familiar.
Do not install any software or application from suspicious websites.