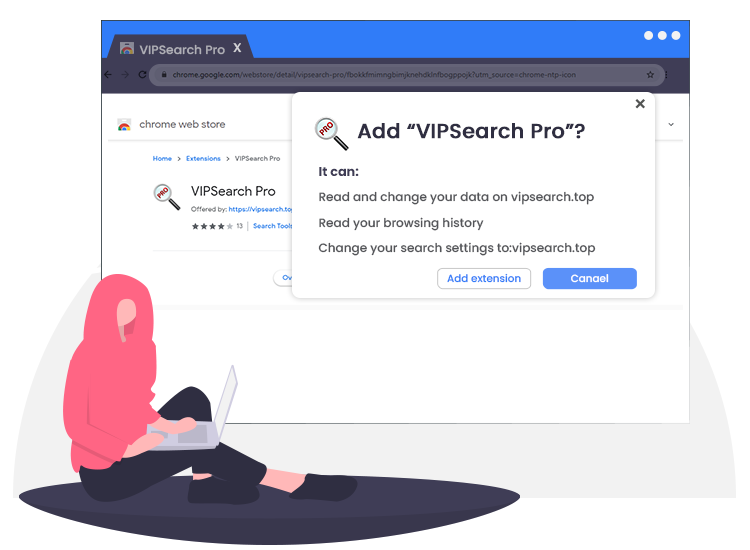 VIPSearch Pro is promoted as a helpful browser add-on or extension to enhance the browsing experience. But, in reality, it acts as a browser hijacker and promotes a fake search engine (vipsearch.guru) by modifying web browser's (e.g., Chrome, Firefox, and Edge) settings without the user's permission. The major goal of VIPSearch Pro browser hijacker is to help the fraudsters generate advertising revenue by making users visit various affiliated and untrustworthy web pages.
So, if your search queries also getting redirected through a bogus search engine 'vipsearch.guru', then you need to get rid of the VIPSearch Pro browser hijacker as quickly as possible.
Read on to know how to remove this annoying browser hijacker from your computer system and undo the changes made to your internet browsers.
What is VIPSearch Pro?
VIPSearch Pro is a rough application categorized as a browser hijacker. It operates by making several unwanted modifications in the web browser's settings. Usually, it replaces the default homepage, search engine, and new tab with 'vipsearch.guru' – an illegitimate search engine.
Apart from redirecting users to questionable and malicious websites, it has a tendency to collect the following personal as well as browsing-related details:
Browser search queries
Geolocations
IP address
Addresses of visited sites
Passwords
Bank account details, etc.
Common Symptoms of VIPSearch Pro Home Browser Hijacker
Following are the common signs that you may notice if you have VIPSearch Pro browser hijacker installed on your laptop or desktop computer.
The default search engine and home page of your web browser are changed to vipsearch.guru.
Browser is displaying sponsored or misleading results.
Entered search queries are getting redirected to unfamiliar web pages.
Websites taking a long time to load.
Intrusive pop-up ads, banners, or fake alerts.
How to Remove VIPSearch Pro Browser Hijacker from PC?
Running a full system scan with a reputable anti-malware/ antivirus program on the compromised system is the simplest way to get rid of this browser hijacker and other potentially unwanted applications. 
In addition, you are advised to develop safe and smart browsing habits to make your computer system immune to a wide range of cyber threats.
Carefully read all terms and conditions and EULA agreements before downloading or installing software.
Don't open or download email attachments from untrustworthy sources.
Make sure your operating system and web browsers are updated at all times.
Create passwords that are strong, unique, and hard-to-guess.