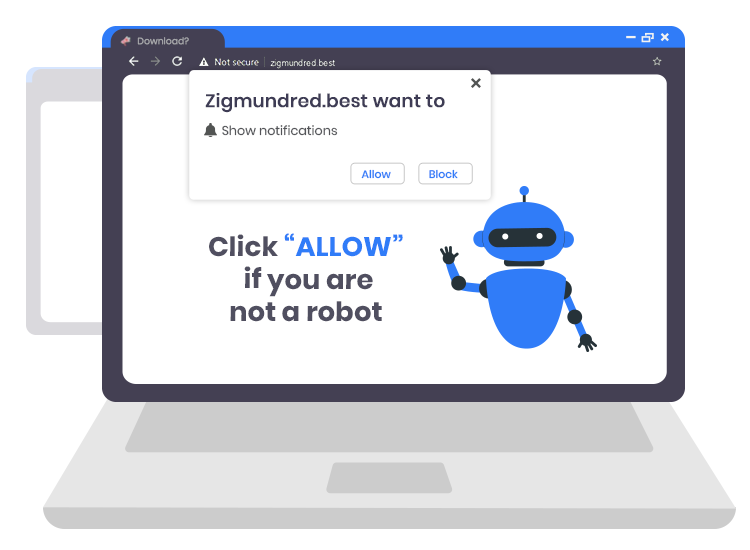 Zigmundred.best pop-up ads come from an untrustworthy website, sharing traits with Onterralink.xyz, Thankyouf.fun, News-shop.xyz, Takhiza.com, and countless others.  According to IT security specialists, visitors to this website are tricked to accept push notifications via the Internet browser. 
Although push notifications cannot harm your devices or data directly, hackers and cyber scammers use them to bypass anti-virus or pop-up blockers so that they can display a huge count of unwanted adverts.
These Zigmundred.best pop-up advertisements are generally used to promote adware software bundles, suspicious browser plugins or extensions, free gifts scams, online web games, and adult or other shady websites.
If you already accepted Zigmundred.best push notifications, then scroll through this article to learn how to disable or block them from your web browser. 
What is Zigmundred.best?
Zigmundred.best is a rough website considered as adware. It uses several deceptive techniques (for example, clickbait, fake captcha verification, etc.) to lure innocent people into subscribing to its browser notifications service.
People who subscribed to its notifications service have reported that malicious advertisements, software offers, and fraudulent messages started to appear directly to the desktop even when the browser is closed.
It's worthwhile to mention that this is not the only webpage which operates by running malicious advertisement campaigns. There are thousands of scam sites on the Internet. 
The important point to note here is that users seldom visit websites of this type intentionally. More often than not, they get redirected by other untrustworthy pages, intrusive advertisements, or by installed potentially unwanted applications (PUAs).
The main motive of Zigmundred.best and other similar websites is to generate some revenue for adware distributors. Hence, users are strongly recommended to avoid accepting push notifications from websites of this kind.
How to Remove Zigmundred.best Pop-up Ads from PC?
To block Zigmundred.best pop-ups from your Chrome browser, all you need to do is follow the simple steps shared below.
Click on the 'three vertical dots' button at the right upper corner of the Chrome browser window.
Then, go to Settings > Site Settings > Notifications.
After that, look for the Zigmundred.best site underneath the Allow section. Then, click the three vertical dots button beside it and select the Remove or Block option.
In addition to the aforementioned steps, you are advised to install a reliable anti-malware program and perform a full system scan to detect and remove all the potentially unwanted applications containing adware.