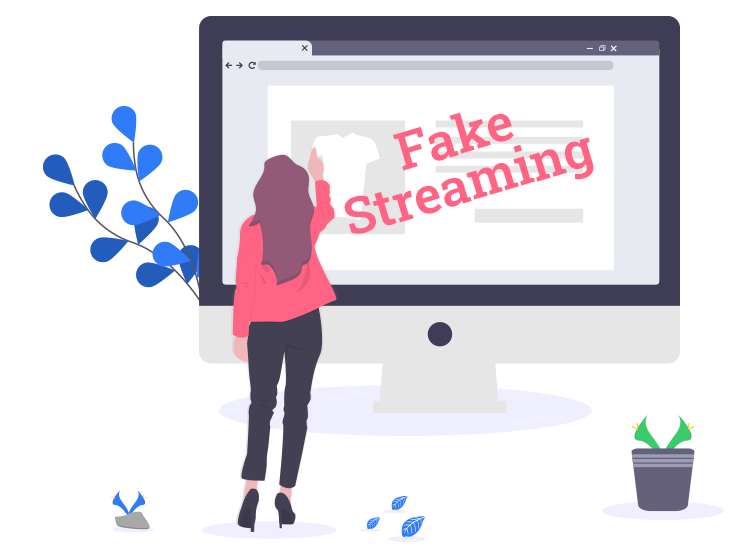 There is no denying that the internet helps people grow their talent and business but it also provides a massive platform for cybercriminals to carry out their malicious activities. Fake streaming websites are a new peril we need to avoid in order to be safe online. Let's see how this works.
Online streaming is not a new concept and continues to grow at an unstoppable rate. But unfortunately, the Internet spectrum is being widely used by black-market hosting sites to spread copyrighted material.  
Illegal movie streaming sites not only aim at earning revenue but can also carry malware, and steal your personal information. In addition to this, it can also place numerous annoying ads on your system. In such a scenario, protecting digital lives becomes crucial to everyone. 
Here are some useful methods that will help you spot fake streaming sites. 
How To Spot Fraudulent and Illicit Streaming Websites?
Haphazard Web-Design. In most of the cases, the developers of fake streaming websites will not spend much time and money on developing business sites. While picking a new site, always try to look out for spelling and grammatical errors, missing graphics, weird text, and unreadable material.
2. Provides freshest Blockbusters. To go the extra mile ahead, ambitious pirating sites can also provide the most recent and trending movies on the list, which might not be the case with any other legal streaming website.
3. Intrusive and annoying ads. Since most of the pirated streaming sites offer discounts and coupon offers they try to make money by placing various ads to earn revenue through Pay Per Click methodology. 
4. Check the "About Us" Disclaimer. Fake streaming websites often fail to mention even the basic details on their webpages. Always have a look at the "About Us" disclaimer page before you think of trying a new website. The "About Us" page talks a lot about the developers and company profile and contains important company details. 
5. Properly analyze the Domain Address. Weird domain addresses can also be another identification criteria for fake streaming websites. Always check the domain in the address line of your web browser. In most of the cases, it is seen that illicit sites do not use ".com". 

6. Your web browser may also send you warning messages while you are trying to visit any suspicious websites. The security parameters of your web browsers are constantly updated which also helps you identify questionable sites.
7. "Free membership", "discount offers" are some of the preferable words by cyber-criminals. Such words aim at luring users to visit a specific website. Never fall for unexplainable discounts and coupon offers placed by fake streaming websites.
8. In addition to this illicit sites may also ask you to download a third party software and jailbreak certain devices. 
Whether you are a movie lover or not, ensure that you only use legitimate sources of entertainment. Be highly vigilant in your choices to avoid being a victim of security pitfalls.