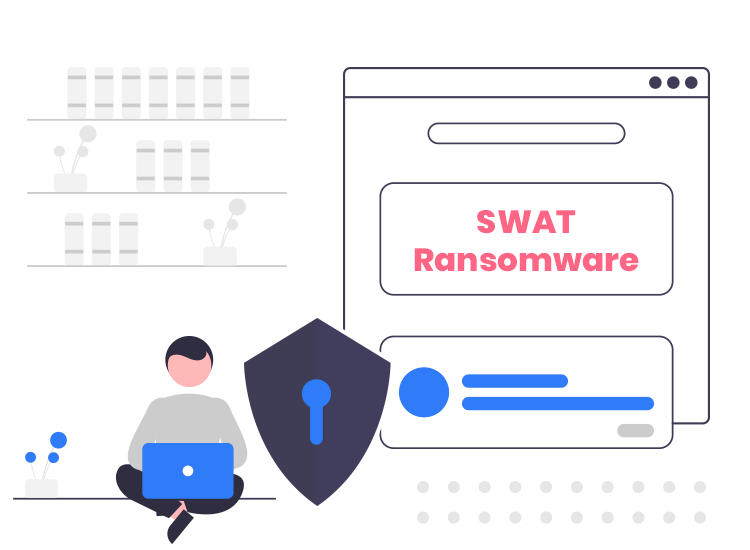 "SWAT" ransomware is the name of an infection that comes from a well-known VoidCrypt ransomware family. This ransomware infection is categorized as dangerous malware because it perpetually restricts users from accessing their own files and documents unless a ransom is paid. Cared to know more about this ransomware-type program? If so, then you've come to the right place. Through this article, we will tell you everything you need to know about what SWAT ransomware is, how you get it, and what to do to avoid it in the future. 
What is SWAT Ransomware?
SWAT ransomware is a malicious file-encrypting virus that is designed by a team of cyber crooks with the sole intention to extract huge ransom by blackmailing innocent users. It evades the user's system secretly and then encrypts (locks) all major file types found on the computer by placing the ".[coinloby@gmail.com][ID].SWAT" extension.
For instance, a file originally named "1.mp3" would appear as "1.mp3.[coinloby@gmail.com][12345].SWAT" after the encryption process.
Once this process is complete, it displays a ransom-demanding message which offers to decrypt the data if the demanded ransom payment is made in the Bitcoin cryptocurrency. Cybercriminals leave this ransom note in a unique text file ("!INFO.HTA") and drop it on every compromised folder on the victim's computer.
How Do I Get SWAT Ransomware?
In most cases, ransomware (and other malware) is distributed using malicious spam (malspam) email campaigns. However, cybercriminals can inject malicious programs into targeted computers through a wide variety of other means as well. Below we list out the most prominent ones from them.
Malvertising, or malicious advertising
Fake and untrustworthy download portals
Freeware download sites
Peer-to-peer (P2P) networks
Fake system warnings or software updating tools
Cracked version of paid tools
Pornographic or adult content hosting websites
Now that you are aware of what spreads SWAT ransomware-type infection, preventing it will become easy for you.
How to Protect Yourself against SWAT Ransomware?
Firstly, we strongly recommend that you do not contact the creators of these ransomware-type infections and definitely do not transfer any ransom amount into their accounts in exchange for access to your lost data. Secondly, we suggest using a reputable and up-to-date anti-malware software to keep your computer system secure against ransomware and other data safety threats at all times.