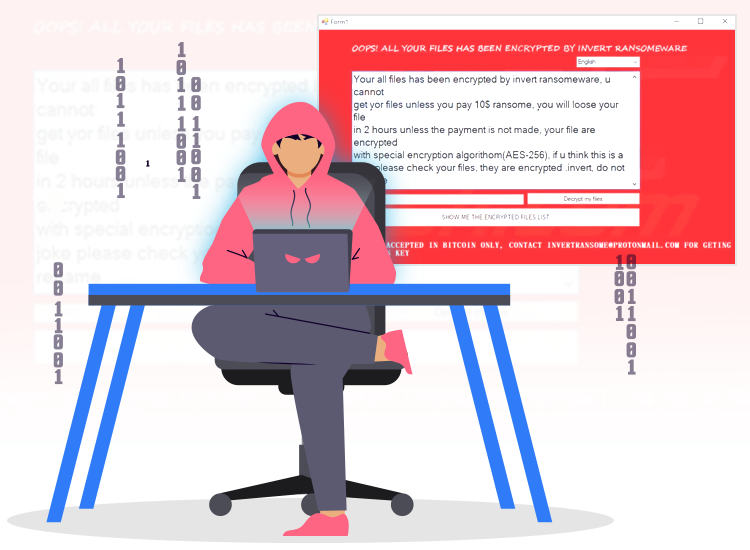 In the long list of ransomware viruses, Invert ransomware is a new discovery by IT security specialists which is designed to gain access to security vulnerable computers stealthily and encrypt all kinds of stored files using a strong cryptography mechanism (AES-256). After locking or encrypting all files (images, audios, videos, documents, etc.) present on the targeted computer, it compels the victims to pay off a specified ransom fee in order to get the decryption key or software.
If all the files stored on your computer got the ".fun" extension at the end and you cannot open them, then unfortunately it is a clear sign that your system has also become a victim of the Invert ransomware attack.
Here's how to remove Invert ransomware virus and retrieve the encrypted files back.
What is Invert Ransomware?
Invert is the name of a new malicious program that belongs to the family of ransomware viruses. This ransomware-type program is designed by cyber crooks to encrypt all the personal data on the infected computers. The main intention behind it is to blackmail innocent users and force them into paying a huge amount of ransom money to obtain the decryption key.
During the encryption process, it modifies the file name of each encrypted file by adding a ".fun" term just after the extension. For instance, it renames a file originally named "1.png" to "1.png.fun", "2.png" to "2.png.fun", and so on.
Like many other notorious file-encrypting viruses, Invert shows a ransom note in a pop-up window after the encryption process is finished. The text presented in the displayed states that the victims need to contact the developers via the invertransome@protonmail.com email address for getting the decryption key.
How Does Invert Ransomware Infect Your Computer?
Following are some of the popular ways using which cybercriminals distribute ransomware and other file-locking viruses:
Malicious e-mail spam
Malicious advertisements
Exploit kits
Peer-to-Peer networks
Third-party installers
Fake software updaters
How to Remove Invert Ransomware from PC?
Removing ransomware and other forms of malware infections requires a lot of time and technical expertise. Due to this reason, we recommend using a potent malware removal tool to automatically find and delete the Invert ransomware virus from the compromised system. After the successful ransomware removal, you can use a data recovery tool to get your files back.