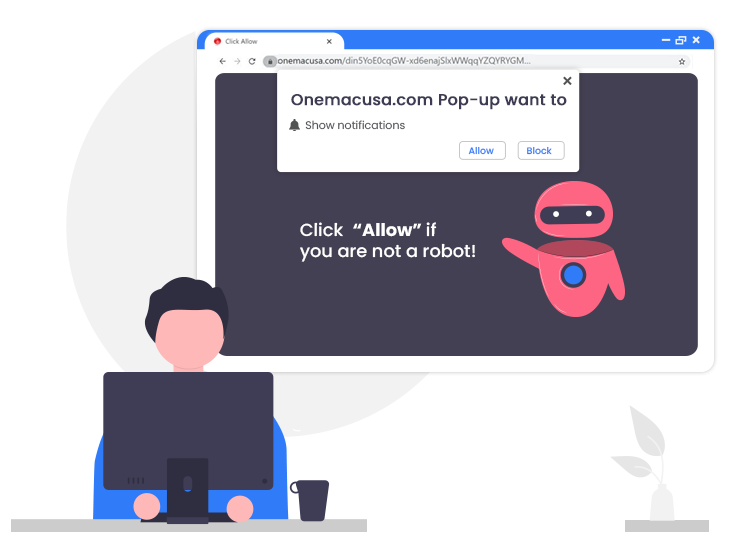 Onemacusa.com pop-up ads come from a rogue website that uses various deceptive techniques to trick innocent people into accepting its browser notifications. Once people grant the Onemacusa.com domain permission to send push notifications, it starts showing tons of annoying pop-up ads on their desktop screens. The Onemacusa.com notifications come from random sources that are not always trustworthy. The only motive of this rogue domain is to generate revenue for its creators from clicks on advertisements.
If this shady page is continuously getting opened on your browser and showing you numerous unwanted pop-ups, then it is a symptom of an adware infection. Keep reading this guide to learn how to uninstall adware and remove Onemacusa.com push notifications from your web browser.
What is Onemacusa.com?
This is a push notification virus website that attempts to deceive innocent visitors into subscribing to its notifications. This rogue domain shares similarities with thousands of other pages, for example, Digitalcaptcha.top, Special-for.me, and Birthdiscipline.com.
In order to trick people into clicking the Allow notifications button, Onemacusa.com and other rogue domains show various misleading prompts such as to prove that you are not a robot, continue downloading a file, access the page, watch a video, etc.
Once the button is pressed, the website starts displaying a huge count of pop-ups, banner ads, and other undesired sponsored content in the lower right corner of the desktop.
Cyber crooks mostly use push notifications virus domains to earn a pay-per-click (PPC) commission by displaying sponsored advertisements or by redirecting the web traffic on its partner websites.
How to Remove Onemacusa.com Pop-up Ads from PC?
Below are the step-by-step instructions on how to remove or block the Onemacusa.com notifications from your Google Chrome web browser.
Open the 'Customize and control Google Chrome' menu by clicking the three vertical dots button at the right upper corner of the browser window.
Next, you have to select the Settings > Site Settings > Notifications option.
Click the three dots button available at the right side of Onemacusa.com URL and choose 'Remove' or 'Block' option.
After you have blocked the site, scan your computer thoroughly with a potent and well-trusted anti-malware program to automatically find and remove the notorious adware and other infectious objects.