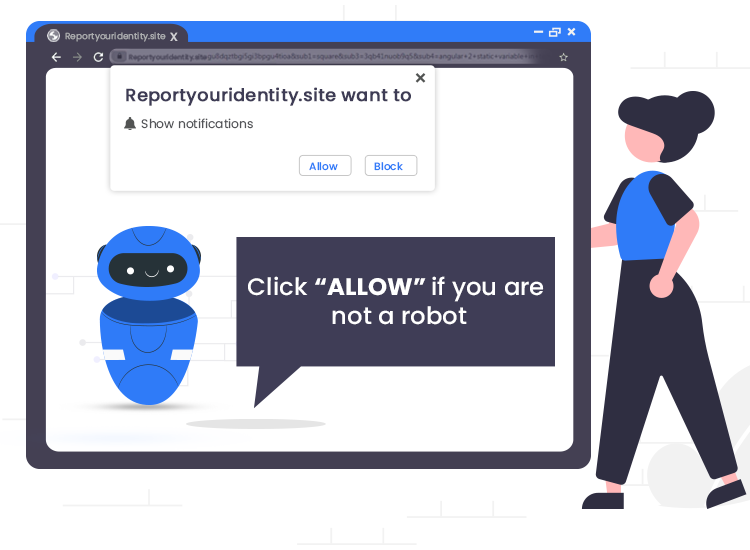 To get rid of the Reportyouridentity.site pop-ups, this one is for you. They appear out of nowhere and cover the website content or open the browser. Any click on these triggers the injection of other malware.
Ads from third-party websites will start popping up all the time. Working on any browser becomes a nightmare, as they create a havoc. If you have been attacked by these annoying ads, read on and learn how to remove it. Also, find out some more details about the same.
What is Reportyouridentity.site?
Reportyouridentity.site is just like any adware website. The malicious webpage sends users a bunch of ads, pop-ups, and notifications every day. And they can affect any device which has a browser installed: a computer, a tablet, or a phone.
Once it finds its way to your device, the adware starts showing ads. At any click on one of these, it redirects your browser to a third-party website, which is usually the one that brings money to the attackers. They bet on generating visits and views to this specific website. To increase the chances of getting clicks, attackers show explicit content or link to other malicious pages.
If you cannot understand how the adware got on your PC, the explanation is really simple. At some point, you just agreed that a website could send notifications. And this turned out to be the re-direct permission that Reportyouridentity.site was looking for.
How to remove Reportyouridentity.site pop-ups from PC?
Although the adware is extremely annoying, getting rid of it is not that difficult. The steps you need to take are quite similar, no matter what browser you might use. All you need to do is to follow these steps on your browser, to get rid of it:
Open your browser Settings.
Choose the Advanced option.
Click the Reset and clean up button.
Choose the Restore settings to their original defaults.
In the end, click Reset settings
The process should remove the adware in no time. Still, you also want to remove its traces. For this, we recommend you install and use an anti-malware tool, from a trusted source.