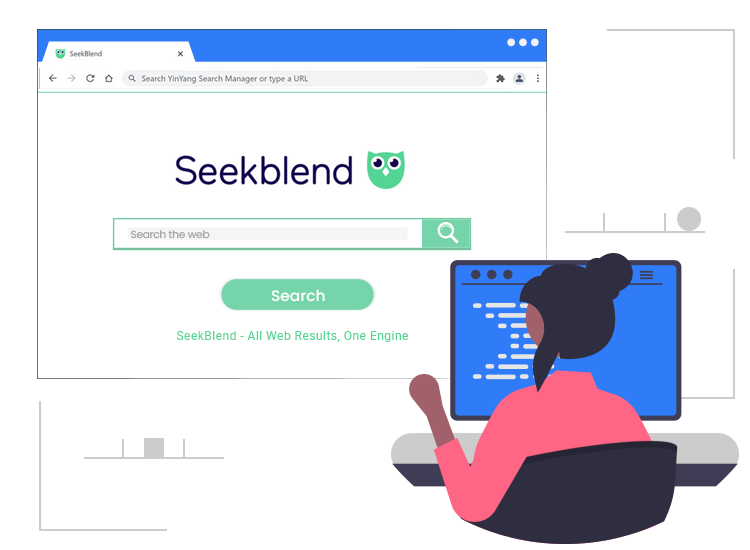 If your default browser's homepage, new URL tab, and search engine are replaced with seekblend.com (fake search engine address), then you have SeekBlend browser hijacker installed. A browser hijacker is a PUA (potentially unwanted application) application, usually in the form of a browser extension, which is used for redirecting web traffic to an affiliate or advertisement-related webpages.
In most cases, browser hijacking applications like SeekBlend get installed on victims' computer systems through some third-party freeware or shareware installers or through some deceptive sponsored ads or links promoted by cyber crime master minds.
If you're one of the unfortunate users whose browser's search queries are being redirected through seekblend.com – an address of a bogus search engine, then you may follow our guide to the end to learn how to remove it from your compromised system.
SeekBlend Browser Hijacker: Everything You Need to Know
As per the experienced security specialists, SeekBlend is the name of a PUA (potentially unwanted application) that acts as a browser hijacker or redirect virus. After successful infiltration, SeekBlend targets the victim's default web browser (Google Chrome, Safari, Mozilla Firefox, Microsoft Edge, etc.) and modifies its settings such as default search engine, new tab URL, and homepage. It replaces those addresses with seekblend.com – a fake search engine.
Most of the time this address/ fake search engine shows irrelevant search results and causes constant redirects to shady or untrustworthy websites which promote various kinds of commercial content such as pop-up ads, banners, survey links, coupons, useless products, etc.
Common Symptoms of SeekBlend Browser Hijacker
If your main internet browser is hijacked by the SeekBlend application, you may notice the following symptoms or signs on your device.
Internet browser settings (default search engine, homepage, and new tab URL) are altered without your consent or approval.
Search queries keep getting redirected to unfamiliar web pages through the address of a bogus search engine (seekblend.com).
A huge amount of intrusive ads keeps appearing in places they shouldn't be.
How to Remove SeekBlend Browser Hijacker from PC?
There are mainly two ways to delete SeekBlend browser hijacker or redirect virus: manually or automatically. Since the manual way is time-consuming and complicated, users are advised to use a potent antivirus or anti-malware software to identify and delete all kinds of malware infections automatically.