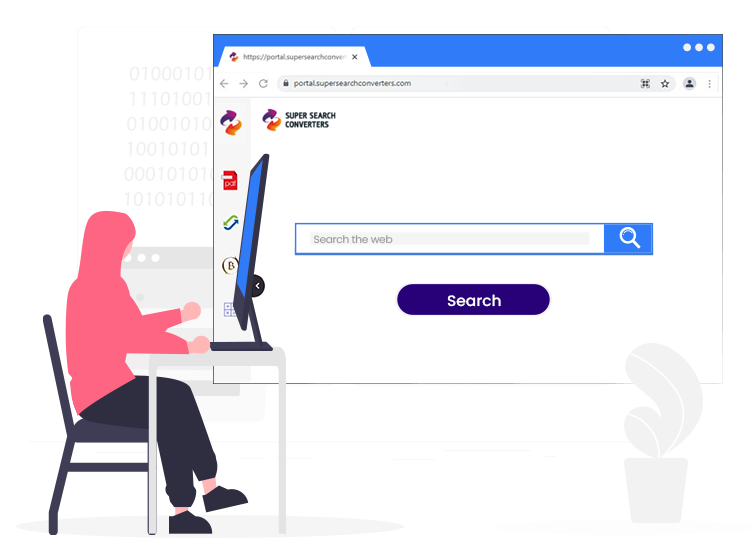 According to cyber threat analysts, SuperSearchConverters is a kind of browser extension or add-on, classified as a browser hijacker or redirect virus. These kinds of harmful and nasty infections are mostly created by the group of hackers with the intention to make several unwanted changes to the settings of targeted or infected browsers so that they can promote a fake search engine URL. In case specific to SuperSearchConverters browser hijacker, it promotes supersearchconverters.com as a fake search engine address.
In most cases, these infectious objects are created and distributed over the web by fraudsters through the usage of numerous deceptive techniques. For this reason, it can also be classified as a potentially unwanted program (PUP).
If you're one of the unfortunate users whose default browser settings are being altered without any prior notice, then keep reading this article. This article describes how you can remove the SuperSearchConverters browser hijacker from your compromised system and restore the original settings.
SuperSearchConverters Browser Hijacker: Everything You Need to Know
SuperSearchConverters is a potentially unwanted program (PUP) that belongs to the category of browser hijackers. This nasty extension or rogue program is created to promote supersearchconverters.com (fake search engine address) by modifying the default settings of popular web browsers, including Google Chrome, Mozilla Firefox, Microsoft Edge, etc.
As the name suggests, the fake search engine supersearchconverters.com generates misleading results that are filled with sponsored links or pop-up ads.
In addition to the above, SuperSearchConverters collects various personal, sensitive, and browsing-related information such as search queries, IP addresses, usernames, passwords, credit card details, geo-locations, and so on.
Common Symptoms of SuperSearchConverters Browser Hijacker
Below are some common signs that may indicate your computer system has become infected with this browser hijacker:
The address of a fake search engine (supersearchconverters.com) is set as the default search provider.
Search queries are constantly redirecting to nasty or shady online sources.
Lots of intrusive ads or pop-ups keep appearing in the search results.
Slow webpage loading and sluggish computer performance.

How to Remove SuperSearchConverters Browser Hijacker from PC?Removing the SuperSearchConverters and other types of infectious objects manually is a time-consuming and tedious process. Therefore, it is advised to use a potent and well-trusted antivirus or anti-malware program to find and remove all the hidden threats and related files from your computer.