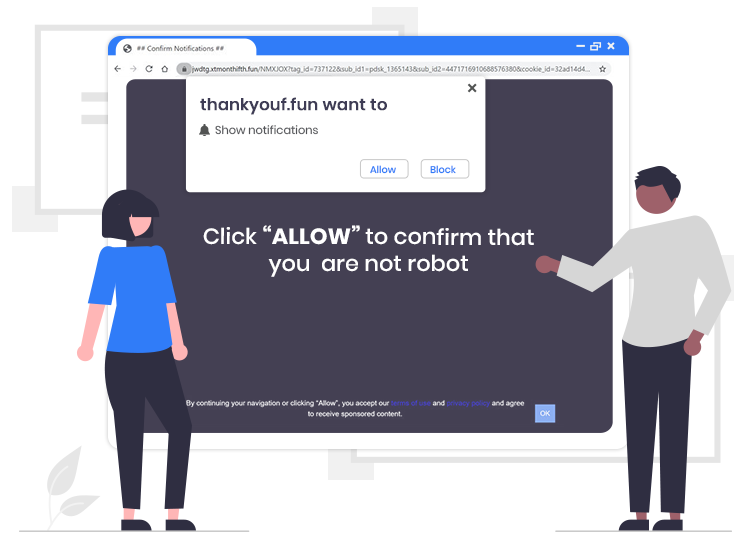 There are many rogue sites on the web and Thankyouf.fun (pop-up ads) is one of them. According to IT security researchers, this is a deceptive website that tricks you and other innocent visitors into accepting push notifications via the web browser. Scammers use these Thankyouf.fun push notifications to bypass the protection against pop ups so that they can send out tons of unwanted ads directly to your browser or desktop screen.
These ads are used to promote online web games, fake software updates, giveaway scams, adult web pages, dubious web browser plugins, adware software bundles, and more.
Scroll through this post below to learn how to disable or block Thankyouf.fun pop-up ads and unwanted notifications in your internet browser.
What are Thankyouf.fun pop-up ads?
Thankyouf.fun is an untrustworthy website, which operates by luring people into subscribing to its browser notifications. The idea is to present visitors with questionable content (e.g., intrusive ads and pop-up deals) and/or redirect them to other rogue or malicious sites so that the publishers of the page can enjoy higher advertising revenue.
When users visit/access the this site, they get greeted with a pop-up box stating Thankyouf.fun wants to show notifications and a false claim that clicking on the 'Allow' button will let them access the content of the web page, watch a video, and so on.
Once the user clicks on Allow, the website starts sending push notifications in the form of pop ups on the browser screen.
The internet is full of the rogue pages like Thankyouf.fun. News-shop.xyz, Takhiza.com, Xtmonthifth.fun, Captchareverse.com – are just a few examples.
How to Remove Thankyouf.fun Pop-up Ads from Your Computer
Below we have provided detailed steps on how to prevent or block Thankyouf.fun ads and notifications from appearing on your Chrome web browser.
First, launch the Google Chrome browser. Next, click the Menu button (in the form of three dots) on the right upper corner of the window.
In the menu, choose Settings option, and then click Site settings.
Now, go to the 'Permissions' section by scrolling downward, and then click on the Notifications option.
In the final step, click the three dots button next to Thankyouf.fun site, and then select the Remove or Block option.
Furthermore, you are advised to install and use a strong antivirus or anti-malware program in order to protect your computer system against viruses, spyware, and other forms of malware infections.