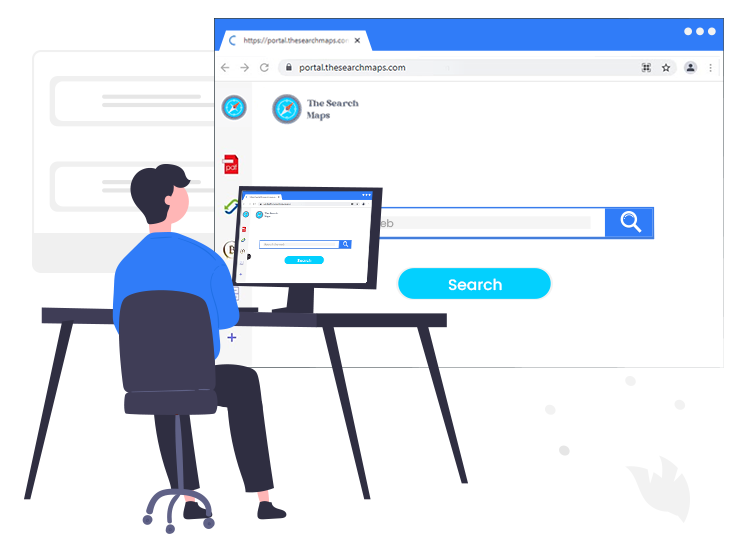 A group of cybercriminals designedTheSearchMaps browser hijacker application is to promote a fake search engine named feed.thesearchmaps.com. In most cases, they promote these fake web searchers through PUAs or potentially unwanted applications.
As soon as TheSearchMaps hijacker or redirect virus enters the system, it reassigns internet browsers' default search engine, homepage, and new URL tab to a fake search engine address – feed.thesearchmaps.com. Attackers use browser hijacking applications like TheSearchMaps to inject unwanted ads in the search results or redirect the victim's internet browser to unrequested (likely shady or malicious) web pages.
If TheSearchMaps Search browser hijacker infected your computer, we recommend that you remove it immediately, and to do this – follow our guide.
TheSearchMaps Browser Hijacker: Everything You Need to Know
According to cyber security specialists, TheSearchMaps is a potentially unwanted application (PUA). It belongs to the family of browser hijackers. After the successful installation, it contaminates the internet browsers. It also changes their default settings to promote feed.thesearchmaps.com fake search engine.
Fake web searchers are usually incapable of generating unique search results on their own. So, they redirect to authentic ones. The Feed.thesearchmaps.com search engine is not an exception. It redirects the user search queries to the legitimate Yahoo Search engine (search.yahoo.com).
TheSearchMaps, like most browser hijackers, also has the tendency to track users' online activities and collect various browsing-related or sensitive information such as IP addresses, search queries, visited websites, usernames, and passwords, etc.
Common Symptoms of TheSearchMaps Hijacker
If you have TheSearchMaps browser hijacking application installed on your computer, then you may notice the below-mentioned symptoms or signs.
The internet browser's homepage, new tab page, and default search engine settings change without your permission. 
Your search queries are constantly redirecting to various questionable pages, such as pornography, adult dating, and gambling. 
numerous ads, banners, pop-up windows, etc flood your search results.
How to Remove TheSearchMaps from PC?
You can remove the TheSearchMaps hijacker virus from your computer via two methods: manual or automatic. Since the manual removal method requires a great deal of time and technical know-how, we recommend that you use powerful anti-malware to automatically detect and remove notorious malware infections like browser hijackers.