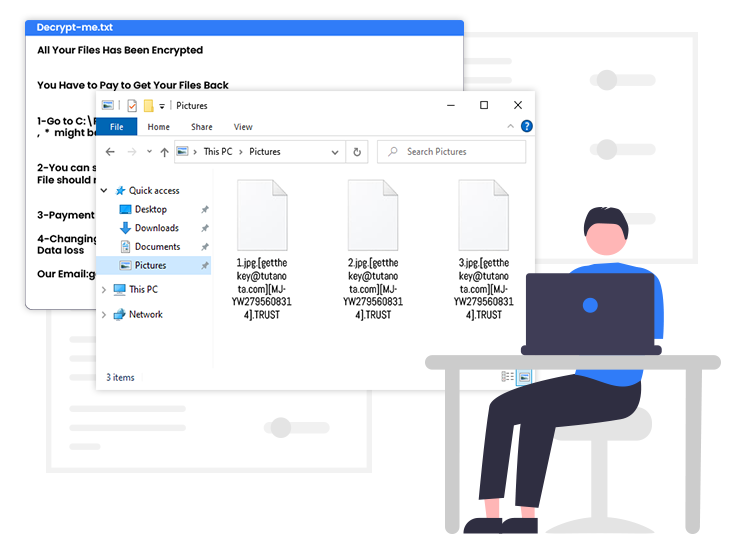 TRUST ransomware is a notorious file-encrypting virus that belongs to the VoidCrypt family. This nasty VoidCrypt ransomware's variant operates by encrypting all formats/types of files (images, audios, videos, games, spreadsheets, work documents, databases, and other formats of files) stored in the victim's computer and demanding ransom payment for the decryption.
In simple terms, it restricts victims from opening or accessing their personal files stored on an infected system until a ransom is paid.
If you want to get rid of the TRUST ransomware infection and unlock your valuable files without paying ransom money to the crooks, then keep on reading our guide to learn how to do so.
What is TRUST Ransomware?
TRUST is the name of a malicious software categorized as a ransomware infection. As said earlier, the sole motive of developers behind this ransomware virus is to extract a massive amount of ransom money (in the form of Bitcoin and other cryptocurrencies) from victims after encrypting their personal as well as system files.
Like Pay Us, GUJD, ZuCaNo, and other ransomware-type programs, TRUST uses military-grade cryptography algorithms to lock down the victims' files and then modifies the original file names by appending a unique extension (".TRUST"). For instance, it renames a "1.png" filename to "1.png.TRUST", "2.png" to "2.png.TRUST", and so on. 
After the completion of the encryption process, the "Decrypt-me.txt" files as ransom notes are dropped into each folder of the computer that contains encrypted files.
The message within the Decrypt-me.txt file informs the victims about the files encryption and instructs them to look for the "prvkey*.txt.key" (the asterisk sign might be a number, for example: "prvkey3.txt.key") file in their systems and send the same to the ransomware authors via email.
How Does TRUST Ransomware Infect Your Computer?
Below we have mentioned some of the common techniques used by cyber criminals to deliver ransomware and other malicious infections to the target computer.
Spam emails
Bundled freeware
Malicious advertisements
Cracking tools
Dubious download channels
Pornographic or torrent sites
How to Remove TRUST Ransomware from PC?
To safely and completely remove this ransomware and other malicious programs, you can thoroughly scan your affected system using some powerful antivirus or anti-malware programs.
After the successful removal of this or any other ransomware virus, you can install and use a dedicated data recovery program to retrieve your lost or deleted files.