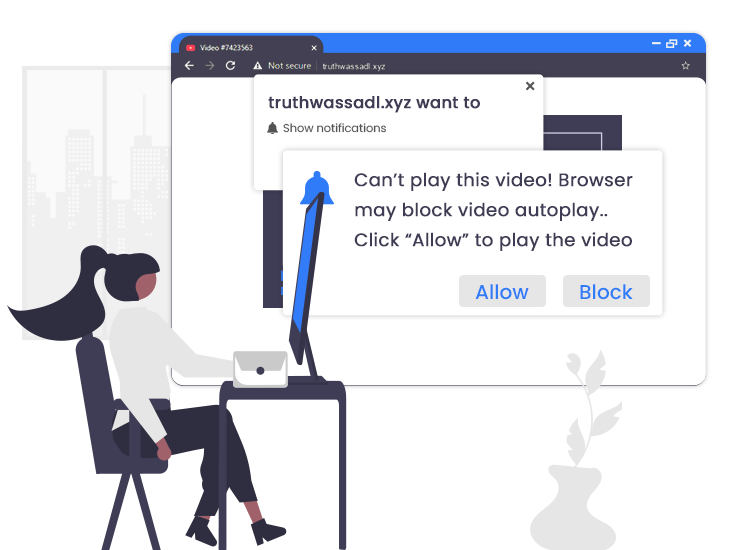 Truthwassadl.xyz pop-up ads emanate from a dubious website that automatically gets opened on your internet browser due to adware infection. It is designed and employed by scammers to show various misleading prompts in order to trick people into subscribing to its push notifications feature. This feature is originally created to inform the subscribers about the newly published content. But, scammers are abusing 'push notifications' to avoid ad-blocker apps by running ad-based campaigns.
Users who have let the Truthwassadl.xyz domain send them browser notifications are repeatedly urged to play online games, visit adult websites, install suspicious browser extensions, and so on.
If you are also receiving tons of Truthwassadl.xyz pop-up ads directly to the desktop, then this guide can help you block them and remove the adware infection safely.
What is Truthwassadl.xyz?
Truthwassadl.xyz is a rogue website designed to trick unsuspecting users into subscribing to browser notifications by employing various social engineering tactics, such as clickbait and fake CAPTCHA verification. It shares many similarities with Watch-visd.com, silvermilk.xyz, Onemacusa.com, and hundreds of other pages.
Upon landing on the dubious Truthwassadl.xyz domain, visitors are encouraged to click the "Allow" button by showing the following misleading prompts:
Press Allow to prove that you are not a robot
Click Allow to enable the Flash Player
Click Allow to download the file
Press Allow to continue watching a video
You are strongly advised to avoid pressing the "Allow" button. Because if you do, you will start receiving an excessive amount of intrusive advertisements in the right bottom corner of your screen, even if the browser is closed.
How to Remove Truthwassadl.xyz Pop-up Ads from PC?
In order to remove or block Truthwassadl.xyz pop-ups and notifications, you can perform the following steps on your Google Chrome browser:
In the top right corner of the screen, click on the three vertical dots to open Chrome's main menu.
In the menu that shows up, click on "Settings".
Go to "Privacy and Security" section and click on "Site Settings".
Next, go to "Permissions" section and click on "Notifications".
At last, locate the Truthwassadl.xyz URL, click the three dots button next to it, and click on "Block".
After successfully blocking Truthwassadl.xyz notifications, run a full system scan with a competent and potent anti-malware software to automatically find and delete all kinds of hidden malware threats, including advertising-supported software (adware).