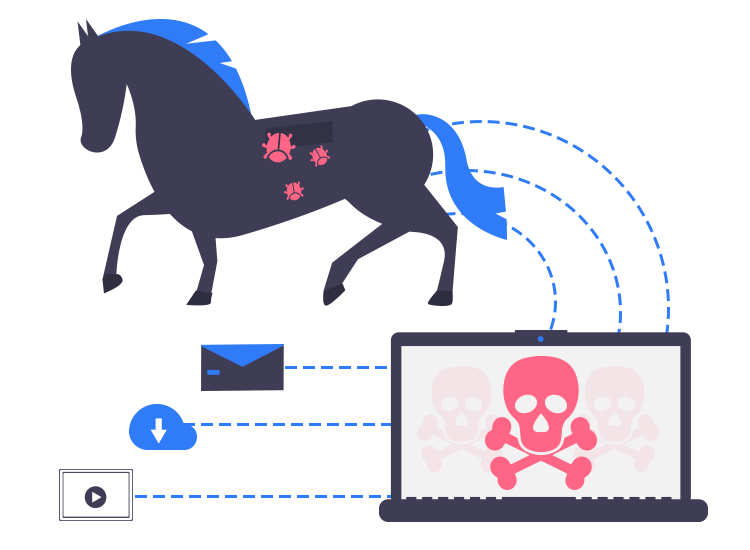 A Data Sending Trojan is used by hackers to send information back to its owner. Here are a few tips to stay safe from such threats. Retrieving confidential information like personal details, email addresses, bank details, credit card numbers is its underlying aim. 
In most cases, Data Sending Trojans are only used to place legitimate-looking ads on the user's device. Hackers use various techniques to understand the browsing pattern of the user's along with their most visited websites. The information is then used to serve users with relevant ads. 
Trojans deploy legitimate-looking software to gain unauthorized gain to the user's PC. It can disrupt, damage, steal sensitive data, and cause various other destructive activities. In addition to this, the ads placed on user's screens are usually infected and lead to third-party websites that are mostly infected and can result in a compromised system.
How Does Trojan Infect Computer Systems?
There are several methods in which Trojans can infect computer systems.
Trojan-Dropper: It is an intelligently designed program that cybercriminals use to install malware. Its detection is quite difficult.
Trojan-Downloader: This is specifically designed to download and install other malicious malware on a system.
Trojan Rootkits: This one is used to provide access to victim's devices and also help in preventing detection.
Trojan-Banker: The underlying aim of this trojan is to steal financial and banking related details for carrying out illegal activities.
Prevention Tip | How To Protect Data Sending Against Trojan?
Here are a few simple yet effective tips that can help you guard yourself against this deadly PC threat. 
The use of a powerful and feature-rich software security suite should be your first line of protection. It should be able to perform deep system scans, detect malicious malware, and remove them with utmost ease and accuracy.
Apart from this, avoid clicking on suspicious emails. These emails are usually infected and can result in a compromised system.
Keep your device up-to-date with all the latest patches.
Do not use thor party websites to download applications. These programs can often download packaged programs on your device.
Backup your files on a regular basis to prevent data loss.
Never click on pop-up ads and banners that appear on your screen out of nowhere.
Protect your confidential accounts with a strong password, in addition to this, you can also opt for 2-factor authentication.
Use a strong Firewall and Ad-blocker program to strengthen the security walls of your PC.
Stay alert and don't take any chances. Follow basic security etiquette to protect yourself from being a victim of this malicious malware.