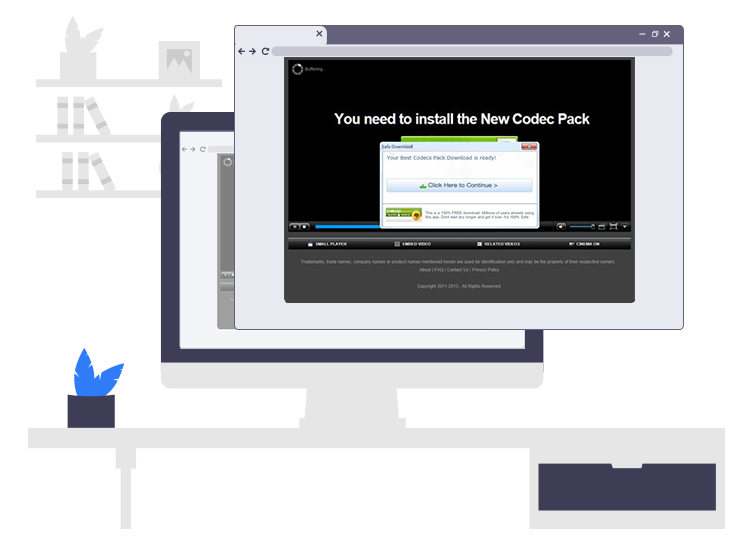 "You need to install the New Codec Pack" malware is a deceptive pop-up that tricks you into downloading and installing potentially unwanted applications (PUAs) on your computer. Read on to know about this browser pop-up scam in-detail and learn various tips on how to completely remove it from your system. 
What is the 'You Need to Install the New Codec Pack' Pop up ad?
The "You need to install the New Codec Pack" fake error message is a kind of social engineering scam that is displayed to trick users into thinking that they need to install an update for your Windows Media Player. It does this to scare users into downloading and installing unwanted malicious programs on their laptop or desktop system.
Be aware, this 'New Codec Pack' malware pop-up is not legitimate, and rather than installing the latest Codec Packs, it installs a number of PUPs as well as malicious toolbars (AwesomeHP Toolbar, Sweet-Page Toolbar) and browser extensions which further delivers numerous intrusive online advertisements and collects user's personal information. Therefore, never click on these banners, pop-up advertisements – this behavior can pose a serious risk to your privacy and security.
The main reason behind why you are seeing the "Install New Codec Pack" pop-up ads because you are either infected with an adware program or another malicious website is redirecting you to them.
If you're just looking for a way to block the 'You Need to Install the New Codec Pack' redirect on a specific site, then you can simply use a reliable and trusted browser extension for content-filtering and adblocking.
When it comes to adware, these malicious programs are distributed using a deceptive marketing technique called "bundling" – stealth inclusion of PUAs in the installation setups of regular programs.
How to avoid installation of 'You Need to Install the New Codec Pack' pop up ads?
There are basically two plain approaches you should take to prevent system infiltration by 'New Codec Pack' pop-up or any other potentially unwanted application. Firstly, always opt for the 'Custom' download/installation procedure. Secondly, decline offers to download and/or install additionally included third party software. The most effective means of protection from cybercrime is caution.
However, if your device is already infected with PUAs, it is recommended to get a professional malware removal tool to get rid of such pesky and high-risk computer infections automatically.