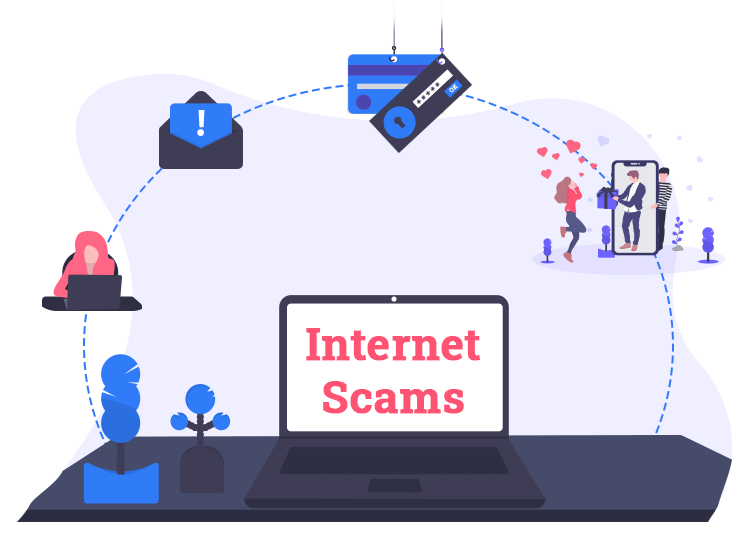 Internet Scams & Protection Tips: Internet scams and online frauds are growing at an unbeatable rate. Here are a few tips to keep you safe.
As per the facts and figures released by IC3 (Internet Crime Complaint Center) close to 351,000 complaints of the Internet, scams were logged in 2018 account for a total loss of approximately $2.7 billion.
Anyone and everyone who uses the internet can become a victim of Internet scams. So if you want to stay protected from these malicious online threats and are interested in knowing about some of the most common Internet scams, then our blog here will be of enough assistance to you. Stay informed to behave proactively and take necessary actions on time. 
Types of Internet Fraud And Protection Tips
Here are some of the most common types of Internet scams along with a few protection tips. 
Legitimate dating websites are often exploited by cyber-criminals by creating fake profiles. These accounts are then used by scammers to develop trustful relationships and ask for money in the name of a family emergency and financial commitments. 
Prevention: Be fully aware of the terms and policies of the dating platform that you are using, do not trust anyone blindly, and if you think that things are getting suspicious break contacts. 
Coronavirus has impacted everyone's life. While the world is fighting this deadly virus cyber-criminals are using it as a new avenue for exploiting users. Hackers are using multiple ways to trick people into fake discount offers, selling deals, and much more. 
Protection tip: Avoid accessing emails from unknown sources. Apart from this, it is not advisable to click on suspicious links as they may redirect you to infected websites and download malware on your device.
Cybercriminals also carry out Internet scams by creating fake shopping and e-commerce websites. These websites highly luring discount offers and deals forcing users to buy products. They aim at stealing users' details and use vulnerable payment facilities.

Protection tip : Avoid using online shopping websites that are new to you and ask you to pay through a third party payment platform. We advise you to trust only legitimate and popular e-commerce websites. 

Banking and Credit Card Scams.
Scammers use phishing emails to conduct Internet frauds. Legitimate looking emails from banks and financial institutions are sent to numerous users. Once the users open these emails and open the attachments. Scammers can get unauthorized access and steal their confidential information and details to carry out illegal activities.

In addition to these, other common types of Internet frauds are Malware and Ransomware scams, Technical support internet scams, Employment, and job scams, medical scams, and many more. 
Stay informed to protect yourself against Internet scams and frauds.