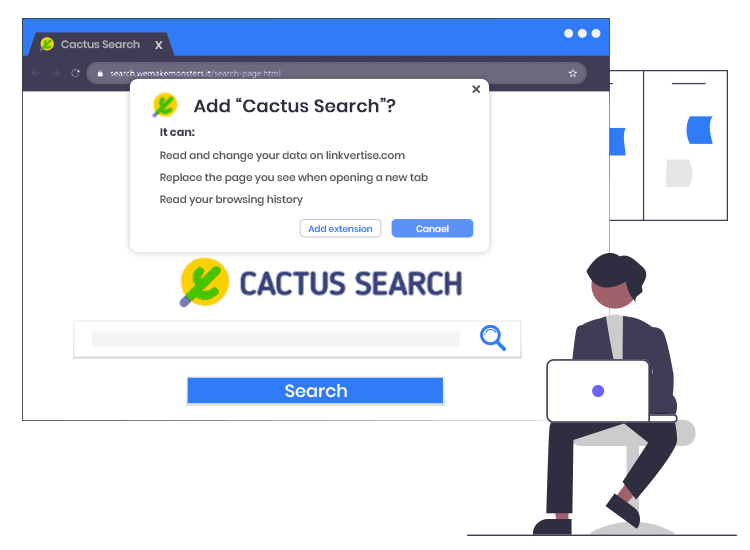 Cactus Search browser hijacker is advertised as a valuable browser extension to provide quick and optimized search results from Bing search. At the first inspection, this seems a genuine, useful search engine like other popular ones like Google, Yahoo, and Microsoft Bing. Unfortunately, it promotes an illegitimate search engine (cactus-search.com) which shows irrelevant search results with sponsored ads and redirects users' search queries to questionable and malicious third-party websites.
Due to this reason, Cactus Search is categorized as a browser hijacker or redirect virus. If you want to know how to remove this annoying browser hijacker from your computer in a hassle-free manner, then read this article with the utmost attention. 
Cactus Search Browser Hijacker: Everything You Need to Know
This is a questionable browser extension that falls under the category of browser hijackers. Typically, it modifies the settings of installed web browsers (e.g., Chrome, Firefox, Bing, and Edge) without the user's knowledge or consent to promote cactus-search.com fake search engine. 
The main aim of this browser hijacker and other software/extensions of this kind is to earn advertising revenue by redirecting user web searches to untrustworthy sites that contain advertisements or sponsored links.
Apart from causing redirections, Cactus Search browser hijacker is also capable of collecting users' personal and browsing-related information, such as addresses of visited sites, entered search queries, IP addresses, credit card details, etc.
Common Symptoms
Your search engine, homepage, and new tab page are changed to cactus-search.com.
Your browser keeps redirecting you to unfamiliar web pages that you do not intend to visit.
Websites taking longer than expected to load.
Multiple pop-up ads and notification prompt appearing out of the blue.
How to Remove Cactus Search Browser Hijacker from PC?
Usually, you can try running an automatic scan on your infected machine using a trustworthy antivirus or anti-malware solution. 
Apart from scanning your system for browser hijackers with a security program, we suggest you follow the below-listed cybersecurity tips to safeguard your computer from malware attacks.
Carefully read the software license, terms of use, and user agreement before installing the software program.
Use caution when opening email attachments from unsolicited and unknown sources.
Keep your operating system and web browsers current.
Take a backup of your important data regularly.