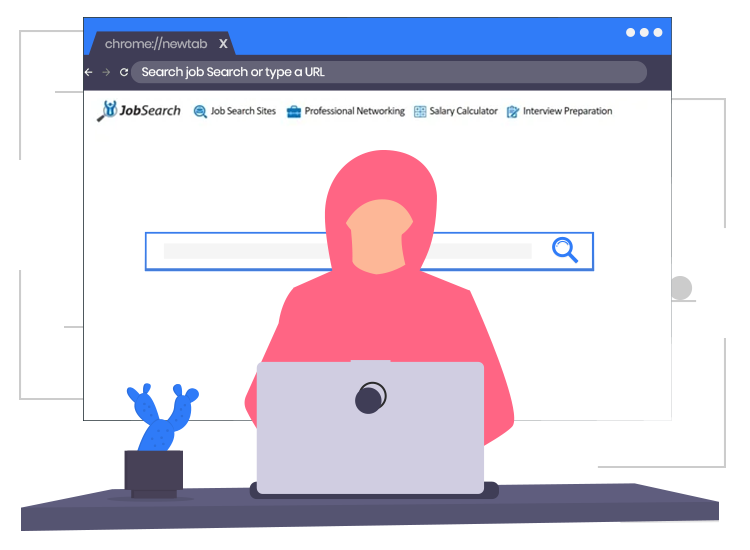 Job Search browser hijacker is a browser extension endorsed as an easy access tool to job-related content. It is supposedly capable of providing users with job descriptions, salaries, interview preparation material, and company data through a browser's homepage. 
However, in reality, this extension promotes the address of some fake web searching tools by modifying users' default homepage and search engine settings. Due to this behavior, Job Search is categorized as browser hijacker infection. Since this infection can get on your PC without permission or consent, it is also classified as a potentially unwanted application (PUA).
Keep reading to learn more about this browser hijacker, how it works, and how to remove it and restore your original browser settings.
Job Search Browser Hijacker: Everything You Need to Know
This is a highly vicious computer infection which falls under the category of browser hijackers. 
As mentioned above, Job Search browser hijacker promotes an illegitimate web searcher. This illegitimate search engine claims to provide quick access to various popular & legitimate job search sites with improved results. But it is not true at all. The purpose of this illegitimate search engine is to make users visit shady/affiliated webpages and download potentially unwanted applications. This bogus search engine delivers always sponsored results or loads misleading content.
The ultimate goal of developers of this browser hijacking application is to make advertising revenue from the sponsored links or intrusive advertisements displayed in the search results.
Furthermore, Job Search developers can track user browsing habits (searched queries, addresses of visited websites, IP address) and sell this information to third parties (potentially, cyber criminals) for marketing purposes. 
Common Symptoms
Following are the most common symptoms of browser hijacking applications.
Internet browser (e.g. Chrome, Firefox, Safari, and Edge) settings are manipulated.
Entered search queries are getting redirected to questionable websites.
Unwanted program or browser plugins are installed without your knowledge.
Unexpected popup windows are appearing in the search results.
Webpages are loading slower than usual.
How to Remove Job Search Browser Hijacker from your computer?
There are two approaches that you can take to remove this hijacker from your computer. One is manual removal and the other is automatic removal. Since the manual removal approach could be quite risky and time-taking, we advise users to use reliable anti-malware tools to automatically detect and remove any malicious programs such as this one from their devices.