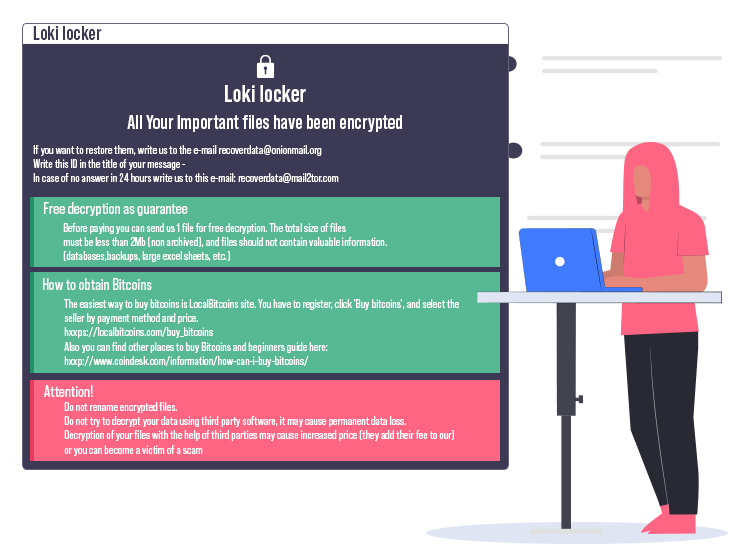 Loki Locker ransomware is a piece of rogue software that encrypts all types of files (for example, images, audios, videos, text documents, spreadsheets, pdf, etc.) found on the target computers and then demands ransom payment for the decryption.
Are you unable to open or access your personal files on your computer system? Has the ".Loki" extension been appended to the end of all of your file names? Well, in case you find your answer to these interrogations is yes, then your computer might be infected by a piece of malicious software called Loki Locker ransomware.
If you want to remove this ransomware infection and recover your files without paying ransom money to the crooks, then read this guide to the end.
What is Loki Locker Ransomware?
This is the name of a ransomware-type program that encrypts files stored on the targeted computers and asks the owners to pay a ransom fee (Bitcoin or other cryptocurrencies) in return for the decryption key. 
Like other file-encrypting viruses of the ransomware family group, the Loki Locker ransomware virus changes the filenames by adding a nasty ".Loki" extension to the name of every encrypted file. For instance, a file with the original name "myvideo.mp4" would appear as "myvideo.mp4.Loki" after the encryption process.
Once the files on the victim's computer are encrypted, the virus displays a text file named "Restore-My-Files.txt" that contains the ransom note and instructions on how to contact the ransomware authors for purchasing the decryption software/key.
How Does Loki Locker Ransomware Infect Your Computer?
Cybercriminals can deliver ransomware-type viruses and other malware infections to the target computer through a variety of means. Let us have a look at some of the most commonly-used tactics to spread malware:
Malspam campaigns
Malicious advertising
Software bundling
Peer-to-Peer networks
Unofficial download sources
Fake software updaters
How to Remove Loki Locker Ransomware from PC?
Using a powerful automatic malware removal (anti-malware) tool is the best way to get rid of this dangerous ransomware virus and stop it from getting on your computer system ever again. After the complete removal of the ransomware infection, you can restore your encrypted files using the backup data. However, if you don't have a backup, you can try a professional data recovery software to bring back your lost files.