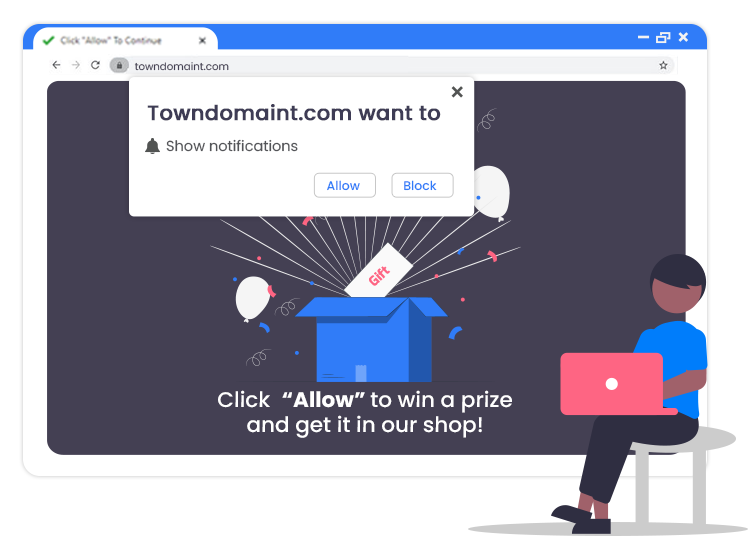 If you are seeing Towndomaint.com pop-up ads and notifications on your computer then this guide can help you safely get rid of them from your internet browser.
Towndomaint.com is a deceptive website that displays fake error messages to trick unsuspecting visitors into subscribing to its push notification service. Push notification is a legitimate and effective method that allows the website developers to keep their visitors or customers in touch with all the latest additions on subscribed websites.
But, the IT security experts have determined that the scammers have started misusing this method in order to bypass pop-up blocking software installed on the victim's computer and display a huge number of unwanted adverts.
The push notifications powered by the Towndomaint.com site usually promote fake software updates, free prize scams, harmful browser extensions, adult sites, and online web games.
What are Towndomaint.com pop-up ads?
Towndomaint.com is a kind of malicious page designed by cybercrooks to make an online profit by redirecting traffic to sponsored pages. Webpages of this kind are responsible for countless pop-up advertisements and redirects on the computer system.
There are thousands of scam/shady webpages of this kind on the Internet. Diguver.com, My-live-videos.com, and Pizzaday.xyz are a few examples.
Towndomaint.com and other similar pages generally use social engineering methods to trick users into subscribing to their browser notifications. Once subscribed, the malicious page starts displaying a huge count of advertising banners, pop-ups, coupons, and other promotional material directly on your desktop even if your web browser is closed.
It is important to note that malicious web pages like Towndomaint.com are seldom accessed deliberately; most users visit them via intrusive advertisements or installed potentially unwanted applications (PUAs).
How to Remove Towndomaint.com Pop-up Ads from PC?
If you are facing an issue of unnecessary Towndomaint.com pop-up ads on your Google Chrome browser, then perform the following steps to block them:
First of all, go to the setting of your Google Chrome browser.
Go to the Privacy and Security section in the settings, and then select the option which shows Site Settings.
Now you are required to click on the Notifications.
At the end click the three dots button next to the Towndomaint.com, and then select the Block option. 
After performing all the steps in the same order as they are mentioned above. All the notifications from that particular site will be blocked and your device will get rid of all the unnecessary pop-up ads.