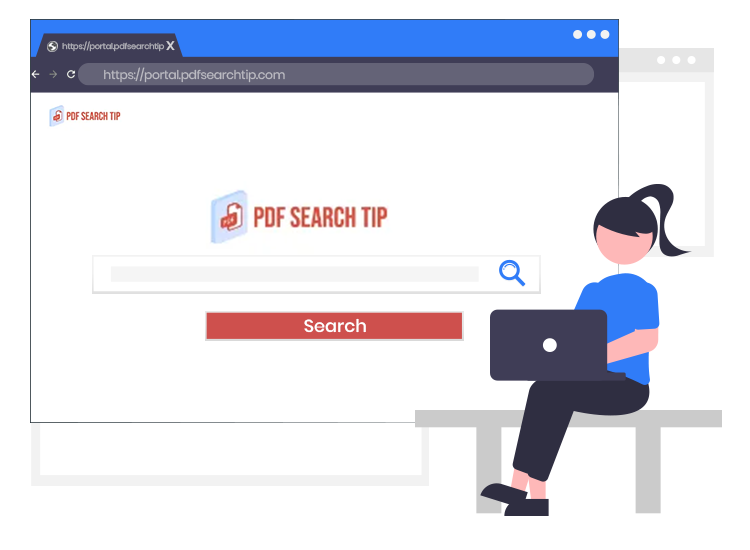 According to experienced security researchers, PDFSearchTip is a potentially unwanted application from the family of browser hijackers. A browser hijacker is one of the sneakiest forms of malware that makes modifications to the default web browser settings to dig its way into the users' sensitive data. 
Keep on reading to learn how to remove PDFSearchTip browser hijacker from your computer without implementing several tedious and time-consuming steps.
PDFSearchTip Browser Hijacker: Everything You Need to Know
As said above, this is a potentially unwanted application or browser extension that is designed to promote pdfsearchtip.com, the address of a fake search engine.
This browser hijacker attacks all major internet browsers (for example, Chrome, Firefox, Bing, and Edge) and steals vital details relating to users' browsing activities by changing the settings. It includes changing the address of the default search engine, new URL tab, and homepage with the address of a fake search engine (pdfsearchtip.com).
Users, then, are misguided into clicking the intrusive ads or fraudulent links from a fake search engine. Since the browser hijacker is installed on your system and is directing the fake search engine activities, it all sums up to the loss of sensitive data and browser security.
Common Symptoms of PDFSearchTip Browser Hijacker
Here are some of the most common symptoms or signs that you will notice if your browser has been hijacked by PDFSearchTip.
Your default search engine, new tab, and homepage of the web browser have been replaced by pdfsearchtip.com.
Your web searches automatically getting redirected to dubious websites.
Sluggish performance and slow page-load times.
Loads of undesired pop-up advertisement alerts and notifications.
How to Remove PDFSearchTip Browser Hijacker from your computer?
The manual malware removal is a bit lengthy and complicated process that requires strong technical skills.
So, if you don't have time or if you are not skilled enough, then you can check your system for PDFSearchTip browser hijacker or other unwanted malicious programs and uninstall them automatically using a trusted third-party anti-malware tool.
A good anti-malware tool will help you detect and remove any type of malware lingering in your device in just a few mouse clicks by running a complete system scan. 
Important Tip: Before you download an anti-malware tool, you must ensure its credibility and only seek an official website to install the software.