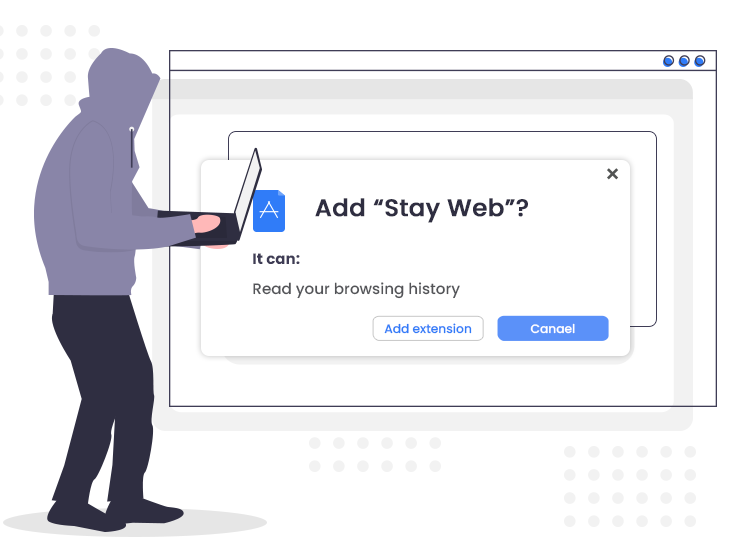 Stay Web, a browser hijacker, is yet another sneakiest form of malware that alters the computer's default browser settings to dig its way into the user's online browsing habits and deliver intrusive adverts. It is also classified as a potentially unwanted application (PUA) due to its capability to be installed deceptively.
What is Stay Web Browser Hijacker?
Stay Web browser hijacker encourages the swindling with browser activities and steals browsing data by making modifications to the Internet browser (e.g., Chrome, Firefox, Edge) settings. It replaces the existing homepage, new tab/window URLs, and default search engines with some fake search engine (tailsearch.com).
How to Remove Stay Web Browser Hijacker?
To revert changes made to your web browsers, it is mandatory to first uninstall the Stay Web browser hijacker. You can check your system for any unwanted or suspicious software and uninstall it immediately. For an automatic method, you can use any trusted third-party antimalware software to combat the sticky fingers that threaten your security.
An antimalware tool will help you detect any type of malware lingering in your device by running a complete system scan. Once detected, you can get these threats kicked out of your device with just a couple of mouse clicks. But, before downloading any antimalware tool, you must ensure its credibility and only seek an official website to install the software. 
Some Quick Tips to Remember to Protect Your Security
They say prevention is the cure. Given the chances that your security may be wavering at stake, there are a few angles you should always look after to safeguard it.
Think before you click: If a page seems to be suspicious, avoid entertaining that and do not click on any popup ads since they lead the way for browser hijackers to be installed on your system.
Use caution when downloading: Never overlook the need to check any software you are installing properly. It is advised to avoid using any third-party page to download software in order to avoid malicious threats.
Keep your computer updated: Unpatched operating systems, browsers, and software applications represent a doorway for hackers to get into your systems. Hence, it's essential to keep them updated at all times.
Concluding Thoughts
In order to protect your activities from online threats, every step counts. The precautions taken against them right from the beginning are unparalleled. However, using antimalware and checking your system for any uninvited apps is important in order to prevent malware and PUAs like Stay Web.