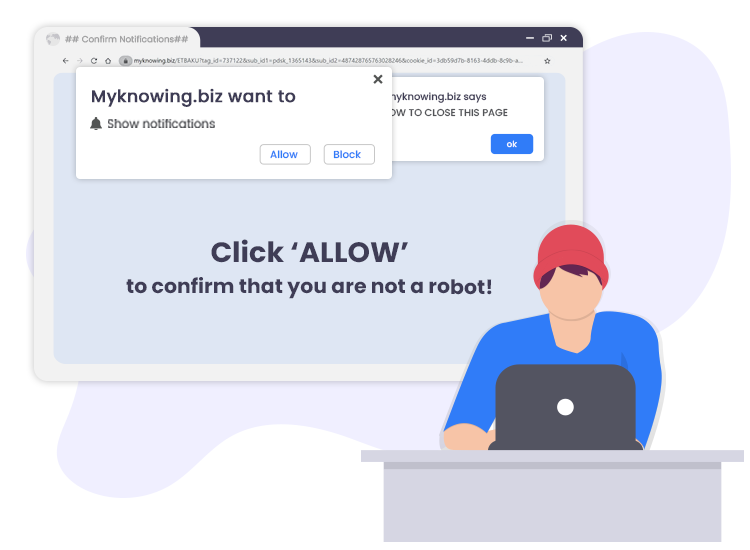 Myknowing.biz pop-up ads come from a dubious website. It shares many similarities with Dpassionto.biz, Mo22.biz, Topfreenewsfeeds.com, and countless other rogue web pages. The main purpose of publishers behind the Myknowing.biz website is to lure people into subscribing to its push notifications so that they can deliver intrusive adverts directly on the user's web-browser or desktop.
Clicking on Myknowing.biz pop-ups can further lead to the stealth installation of PUAs (Potentially Unwanted Applications), suspicious web browser extensions or add-ons, etc.
So, if you already accepted push notifications from this web page, then we highly recommend you cancel the subscription. Continue reading this post to learn how to remove Myknowing.biz pop-up ads from your computer.
What is Myknowing.biz?
This is a notorious web domain that uses social engineering methods to display deceptive advertisements as browser notifications by tricking users into subscribing to them. Usually, users do not open pages like Myknowing.biz intentionally. In most cases, they get opened through shady advertisements, other untrustworthy/malicious sites, or by already installed adware or PUA.
Once opened, users are presented with a misleading 'Shows Notifications' pop-up (small dialog box) that urges them to click on the 'Allow' button in order to watch online video, download a file, verifying a captcha, access the content of the webpage, and so on.
Keep in mind that deceptive and dangerous websites such as this one should never be allowed to show notifications.
How to Remove Myknowing.biz Pop-up Ads from my computer
To quickly remove Myknowing.biz push notifications from your Google Chrome browser, all you have to do is follow a few simple instructions shared below.
Launch Chrome browser and click the three vertical dots (Chrome menu icon) in the upper right corner, and then select the "Settings" option.
Go to the "Privacy and security" section, and then select the "Site settings" option.
Then, click on the "Notifications" option under the "Permissions" section
Find the Myknowing.biz site in the Allow section and select the three vertical dots button placed alongside it, then click on the "Remove" button.
Things to Keep in Mind while Browsing the Internet
Here are some basic internet safety rules that you should keep in mind to protect yourself against the range of cybercrimes out there.
Use a powerful antivirus/ anti-malware tool and keep it updated.
Do not open or download suspicious email attachments.
Avoid connecting to free public Wi-Fi hotspots.
Create strong, unique, and hack-proof passwords.