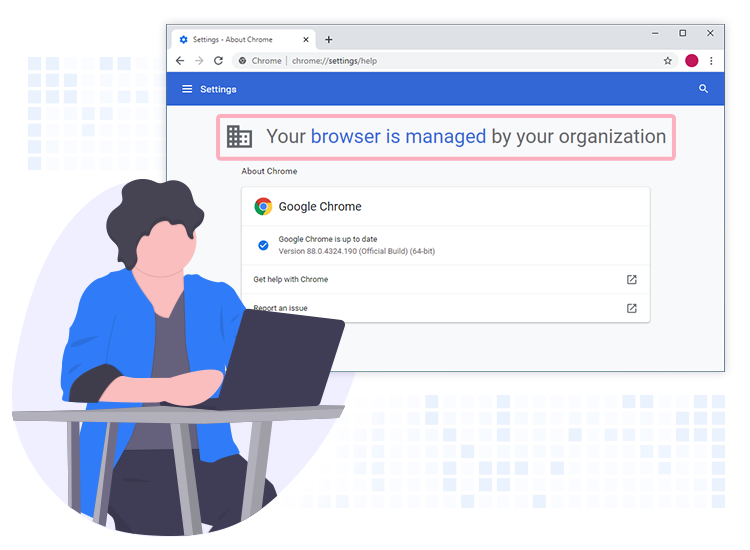 If you are seeing the "Managed by your organization" message at the bottom of Chrome's main menu even if you are not a part of any organization or business, then it could be a symptom of adware or browser hijacker interfering with default browser settings without permission. Keep on reading to know to remove Chrome Managed by your organization browser hijacker from your computer. 
What is "Managed by your organization"?
The "Managed by your organization" is a legitimate Google Chrome feature that allows corporate network admins to manage browser settings and permissions (specify enterprise policies) for users within their organization. This feature makes it easy for system administrators to set restrictions and limit the usage of the Chrome browser to its employees.
If you have a Windows, macOS, Apple, or Linux device that is part of a corporate network, then you may see the "Managed by your organization" message when opening the 'Customize and control Google Chrome' menu via the 'More' icon (three vertical dots) in the top right corner of the screen.
While Chrome's Managed by your organization policy can be a pretty useful feature for an organization or business, cybercriminals or PUA (potentially unwanted applications) developers are leveraging this functionality to promote browser hijackers for their nefarious purposes.
These browser hijackers further promote the addresses of fake search engines by modifying the internet browser settings without the user's permission. They also possess data tracking abilities that are used to gather personal as well as browsing-related information.
How to Remove "Managed by your organization" Browser Hijacker?
In order to completely remove Chrome's this browser hijacker from your non-corporate device without performing numerous lengthy, mind-numbing steps, we recommend running a full system scan with a trusted and powerful anti-malware software.
Apart from this, we recommend you follow the below-listed internet safety tips to keep hackers and scammers out while browsing the web.
Carefully read EULA (End-User License Agreement) before installing any software.
Avoid downloading freeware from unreliable and suspicious websites.
Keep your OS, browsers, and software updated.
Do not open email attachments coming from suspicious senders.
Create a backup of your most important documents to cloud storage or external devices.